Skip to main content
Rhinoplasty is the official name of the operation that improves the appearance and/or function of the nose. It involves removing any "excess" bone or cartilage while refining the appearance of the rest of the nose to bring it in harmony with the other features of the face. Like faces, every nose is different; some noses are too long, some too wide, some have large humps, some project away from the face, and some are too small.
As a specialist in Facial Plastic Surgery, Dr. Waldman is uniquely qualified to perform rhinoplasty, having initially trained with Dr. Jack Anderson in New Orleans (who many consider the father of modern day rhinoplasty). Dr. Waldman has now operated on over 2,000 rhinoplasty patients since the opening of his practice in Lexington, Kentucky in 1983. Many patients travel hundreds of miles to see Dr. Waldman, and his expertise with rhinoplasties and revisions is well recognized by his facial plastic surgery peers.
Explore Topics on this Page
Who Is a Candidate for Rhinoplasty?
Good candidates are usually healthy patients who have realistic expectations regarding the procedure. Rhinoplasty can be an ideal treatment for people who want to address the following nasal concerns:
Crooked nose
Overprojected nasal tip
Underprojected nasal tip
Uneven nasal tip
Wide nose
Dorsal hump
Nasal trauma to the bridge of the nose
Internal nasal injuries
Deviated septum that impairs breathing
Second rhinoplasty: revise results from a previous rhinoplasty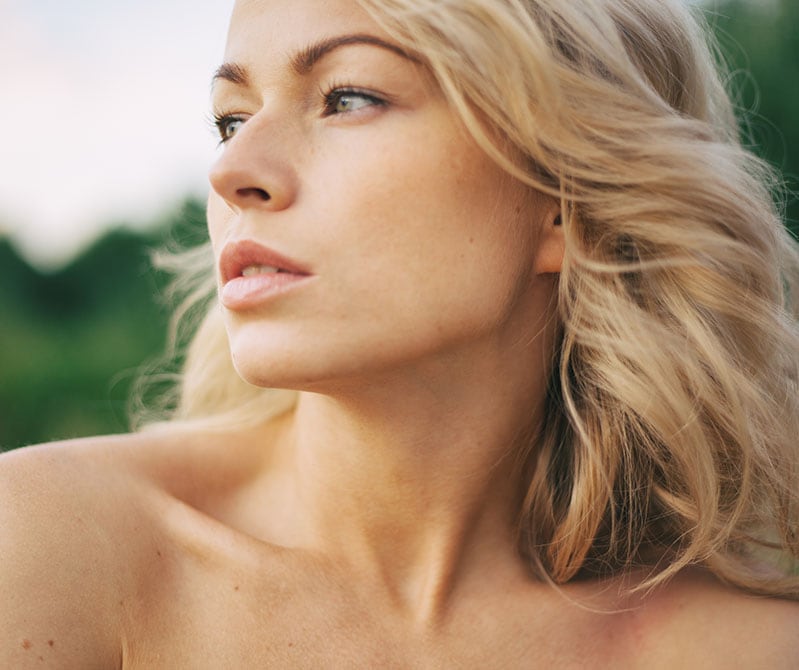 What Is the Appropriate Age to Have a Rhinoplasty?
Generally, girls are mature enough by the age of thirteen or fourteen (boys at the age of fifteen) to undergo this procedure. Because each person matures at a different rate, Dr. Waldman can perform an accurate evaluation of a prospective patient's situation.
What Can Be Achieved with Rhinoplasty?
A rhinoplasty procedure can help improve a variety of aesthetic and functional concerns by refining the nasal cartilage, soft tissue, and bones based on each patient's particular needs and goals. Dr. Waldman can create a personalized surgical plan to alter the framework of the nose, allowing him to:
Resize or straighten the nasal bridge
Remove a hump across the nasal bridge
Adjust a bulbous, boxy, or drooping nasal tip
Raise or lower the angle of a nasal tip
Reshape the nostrils to improve proportions/size
Restore symmetry to a "crooked" nose
Repair or realign a deviated septum or other structural issue
Balance the nose in relation to surrounding facial features to achieve facial harmony
What Can I Expect from the Rhinoplasty Consultation with Dr. Waldman?
You can expect a thorough explanation of Dr. Waldman's recommendations and expectations as well as the potential risks involved with surgery. Following a joint decision by you and Dr. Waldman to proceed with rhinoplasty, his assistant will take photographs of you and you will discuss the options available. He will explain how the nasal structures, including the bone and cartilage, can be sculpted to reshape the nose and indicate how reshaping the chin, for example, could also enhance the desired results.
Dr. Waldman will explain the procedure as well as the potential risks involved with the surgery.
How Is the Rhinoplasty Procedure Performed?
Rhinoplasty is done as an outpatient procedure under either general or "twilight" anesthesia. Dr. Waldman prefers to use the twilight IV sedation method whenever possible. Generally, there are two main surgical techniques used to perform rhinoplasty procedures based on the unique goals and needs of the patient to achieve their desired appearance or functionality:
Dr. Waldman most commonly uses the open rhinoplasty approach, also referred to as external rhinoplasty. This technique requires a very small incision to be made at the base of the nose, between the nostrils. Underlying bone and cartilage can be easily accessible through this small incision to make the desired changes. This method is designed to allow more precise visibility and control of the procedure and is often the chosen technique for more complex or revisional rhinoplasty procedures.
How Long Is the Rhinoplasty Recovery Period?
Each patient's recovery period is different depending on the individual's unique circumstances. Here is a general timeline of what you can expect during the healing process:
7-8 days after surgery: Any external sutures are removed and any internal sutures continue to dissolve on their own. The external cast or splint that the patient received after surgery is removed as well.
1 week after surgery: Most patients can return to work or school.
2-4 weeks after surgery: At this stage, patients are usually able to return to more strenuous activities. Swelling and bruising progressively subside, but a final result may not be evident for 12-14 months. With that in mind, the most noticeable level of swelling should dissipate long before then.
It is important to know that Dr. Waldman does not do post-surgical nasal packing, which reduces the chances of severe nasal pain and headaches after rhinoplasty. In general, any initial discomfort can be managed by taking oral medication. If pain persists or gets worse for more than one week, contact our office for assistance.
Will I Have Visible Rhinoplasty Scars?
Depending on the surgical technique utilized, rhinoplasty procedures typically can result in little or no visible scarring. When a closed rhinoplasty approach is performed, the incisions are created inside the nostrils and therefore any scarring is unnoticeable from outside of the nose. During an open rhinoplasty, a small external incision is made on the underside of the nose in the area between the nostrils. This discreet location allows for rather inconspicuous scarring in the natural nose crease upon healing. After Dr. Waldman has had a chance to evaluate your unique case, he can go over the details of your custom treatment plan with you and outline what can be expected as far as residual scarring is concerned.
How Much Does Rhinoplasty Cost?
The average cost for rhinoplasty at our practice is typically between $12,000 and $17,000. The overall expense can depend on a variety of factors, including the following:
Surgeon's fee
Surgical technique utilized
Type of anesthesia
Complexity of the procedure
Whether it is a secondary or revision surgery
During your consultation, a knowledgeable member of our team can provide a precise cost estimate of your treatment plan. Our practice accepts a wide range of payment methods, including financing arrangements with CareCredit® and Prosper Healthcare Lending. These third-party lending companies can provide qualified patients with convenient payment plans that fit their budget. When you visit our office, we can go over your rhinoplasty financing options and answer any questions you may have about the payment process.
What Are Other Surgical Procedures that May Enhance the Rhinoplasty?
Dr. Waldman often looks at facial structure and whether a chin augmentation may enhance the rhinoplasty procedure. At times, neck liposuction may be recommended to improve the facial profile.
What Results Can I Expect From Rhinoplasty?
A rhinoplasty can result in a more attractive nasal shape and a more proportional nose in relation to other facial features. If the nasal airway obstruction is a reason for the surgery then you should expect an improvement of nasal function after the swelling has subsided.
Contact Our Practice
Not only can rhinoplasty improve the size, shape, and symmetry of the nose, but also correct certain types of functional breathing issues. If you are interested in scheduling a consultation, or if you would like to learn more about rhinoplasty, we invite you to contact our practice today!