Skip to main content
Breast augmentation, also referred to as breast enhancement surgery, is a popular cosmetic procedure primarily performed to enhance a patient's breast size and shape. Breast augmentation surgery can also improve breast symmetry, enhance breast projection, and restore breast volume after pregnancy, weight loss, and/or the effects of the natural aging process. Many of our patients say that they also experience a boost of self-confidence after undergoing breast augmentation performed by one of our board-certified plastic surgeons – Dr. Steven Schantz and Dr. Brad Turner. Highly qualified in cosmetic and reconstructive surgery, our doctors always make sure patients receive the optimal quality of care.
To learn more about breast augmentation, we invite you to read the informational sections provided below.
Who Is a Candidate for Breast Augmentation?
Ideal candidates must be in good overall health and have realistic expectations about what can be achieved with breast enhancement surgery. Oftentimes, good candidates are individuals looking to do the following:
Increase breast size
Improve breast shape
Fix breast asymmetries
Restore breast volume that has been lost as a result of pregnancy, weight loss, or other factors
Enhance overall body proportions and silhouette
To help determine candidacy, your plastic surgeon will also take into consideration whether you are one or a combination of the types of patients listed here:
A patient who has had silicone implants before
A patient who requires a breast lift with implants
A breast cancer reconstruction patient
A patient with a chest wall abnormality
Dr. Schantz or Dr. Turner will not recommend breast augmentation if you are not the right fit for treatment. Should you not be an ideal candidate, our doctors can work with you to determine if other cosmetic options may be more suitable for your unique circumstances.
What Are My Breast Implant Options?
One of the most important steps in the breast augmentation process is choosing the most appropriate implant for your unique needs and goals. Your plastic surgeon will thoroughly go over the advantages and disadvantages of each type of FDA-approved implant that we provide during your consultation. We offer saline and silicone implants, as well as highly cohesive silicone (Gummy Bear) implants for breast enhancement surgery.
Our consignment of implants consists of every possible implant size from Allergan® and MENTOR® brands readily available on our shelves. Very few doctors have this wide arrangement of sizes in stock. Other plastic surgeons usually have to order 4-5 implants in advance of the patient's surgery, which can delay the process of choosing the ideal implant option for the individual. With the large inventory that we have, we can provide patients with more choices – essentially allowing Dr. Schantz and Dr. Turner to be more precise with finding the implants that can best achieve the patient's desires.
Silicone Implants
Silicone implants are filled with a cohesive silicone gel encased in a silicone shell. Our doctors personally prefer silicone over saline implants because patients report that they feel more natural. Silicone implants are also frequently better alternatives for patients who present less breast tissue or have very tight skin around the breasts.
Highly Cohesive Silicone (Gummy Bear) Implants
In a Gummy Bear implant, the silicone shell and gel are significantly thicker when compared to the traditional silicone implants. These implants tend to be "harder" and thus less natural in feel. The more cohesive gel inside allows the implant to retain its shape better and minimize the chances of a rippling appearance.
Saline Implants
Saline implants have a saline (salt-water) solution enclosed in a silicone shell. The breast augmentation process is unique with saline implants since the implant is placed into the chest before it is filled. This gives the patient and plastic surgeon the ability to completely customize the final size of the implant. It also often allows for a smaller incision, depending on the technique utilized. Saline breast implants however have a statistically shorter life-span and are much more likely to demonstrate visible or palpable rippling.
Are Breast Implants Safe?
FDA-approved breast implants are considered safe when placed by an experienced, qualified plastic surgeon. It is important to understand that any surgery has its own set of risks and breast augmentation is no exception. Although serious complications rarely happen, it is in the best interest of the patient to be aware of the possibility of the following implant-related problems:
Implant rupture
Capsular contracture (when scar tissue hardens around the implants, sometimes causing pain and distorting the shape of the breast)
Implant extrusion (when the breast skin and tissue weaken to the point that the implant protrudes through the skin and becomes exposed)
Implant rippling (when the breasts appear to have a wavy, unnatural texture)
Changes in nipple sensation
Implant displacement
BIA-ALCL (an extremely rare form of cancer most commonly associated with textured-surface breast implants)
As mentioned above, silicone and saline implants are considered safe but there is still a very small chance that they may rupture. Saline implants typically deflate if there is a tear or a hole, which usually makes it easier for patients to detect if a rupture has occurred. Patients with silicone implants may find it harder to determine if a rupture occurred since the gel tends to seep out slowly. This is why Dr. Schantz and Dr. Turner follow FDA recommendations regarding silicone implants. Patients should have their first ultrasound or MRI performed 5-6 years after implantation and then every 2-3 years subsequently to make sure that their implants are still intact. Ultimately, any breast augmentation patient should do regular self-breast assessments and routine professional screenings to identify any irregularities.
Should you have any concerns about breast implants, please do not hesitate to reach out to our doctors. They will be happy to answer your questions and advise you further. There is also an exceptional discussion related to breast implant risks that can be found on the FDA's website or you can request to be sent an information booklet by calling (800) 532-4440.
Do I Need a Breast Lift with My Augmentation?
Breast augmentation can enhance the shape and size of your breasts, while a breast lift is designed to reposition the breasts for a more youthful projection. A breast lift is usually an ideal treatment option for patients experiencing breast ptosis, also referred to as "sagging" breasts. Patients who wish to add volume to the breasts and relocate them to a "perkier" position may be advised that a breast lift with implants is an ideal option. During your consultation, your plastic surgeon will determine if breast augmentation, breast lift, or a combination of both can provide optimal results for your needs and aesthetic goals.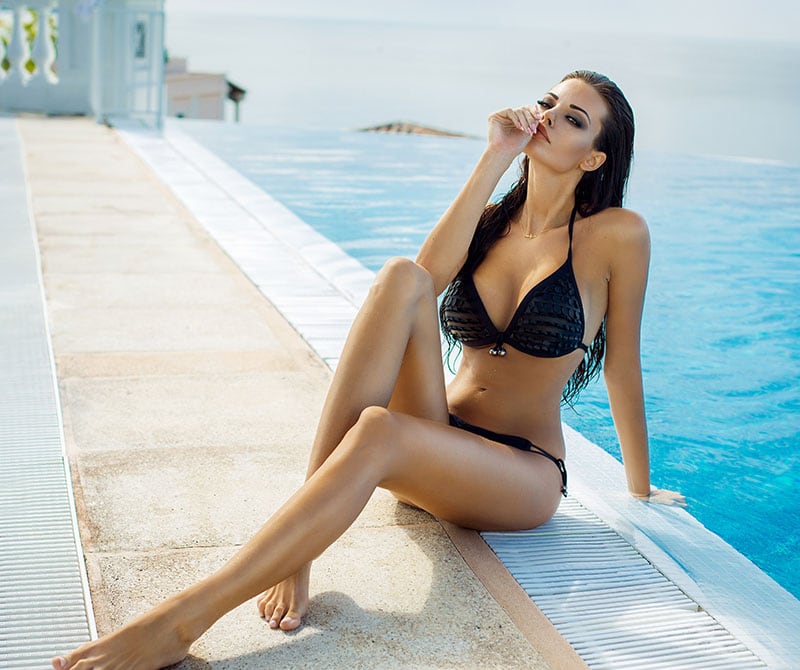 How Is the Breast Augmentation Procedure Performed?
For the breast augmentation procedure, a small incision is made either under the breast or around the areola. Then, an implant is inserted under the breast tissue or under the breast tissue and the underlying muscle. The procedure is performed at our fully-accredited outpatient surgery center under IV sedation. Our doctors ask you to arrive an hour prior to surgery. The procedure usually takes 1-1½ hours. After a short stay in our recovery room, you are discharged to heal in the comfort of your own home.
What Is Recovery from Breast Augmentation Like?
For breast enhancement surgery, our doctors use absorbable sutures that dissolve on their own within a few weeks. Breast augmentation patients will go home in a surgical bra, which helps hold the breasts in the correct position. We recommend using ice packs to decrease swelling and bruising, along with taking oral medication for pain control. Dr. Schantz and Dr. Turner usually suggest patients take 3-5 days off from work to give the body ample time to recover. Light activities can be resumed immediately; however, aerobic exercises should be avoided until about 4-6 weeks after surgery.
Will I Have Scarring from Breast Augmentation?
Scarring is an inevitable part of cosmetic surgery, but our plastic surgeons do their best to create incisions in the most inconspicuous locations possible. Incisions are typically made within the natural lines, creases, and contours of the breast, making it easy for patients to conceal scarring with a bra or bikini top. Our plastic surgeons will be able to give patients a better idea of what their scars would look like during the consultation. In general, scars typically fade over time and our team can provide more advice on how to minimize the appearance of scarring after the surgery.
Will My Breast Augmentation Results Appear Natural?
At our practice, every treatment plan is customized to provide patients with beautiful, natural-looking results that complement their body. The main factors that patients should consider are choosing the right plastic surgeon, selecting the right breast implants, and having the implants inserted in the correct position. These three factors can be the biggest influences on if a patient's breast augmentation results appear natural. This is why we typically recommend that patients do thorough research on their potential plastic surgeon and schedule a consultation to get a better idea of the process and the results they can expect from breast augmentation.
How Long Do Breast Implants Last?
Saline and silicone breast implants are not guaranteed to last a lifetime and typically last about 10 to 15 years. Some patients may be able to safely go beyond this time frame without replacing their implants; however, patients who notice symptoms of implant rupture, capsular contracture, or other complications should book an appointment with their surgeon as soon as possible no matter how long they have had their breast implants. On average, patients only have to replace their implants one to two times in their lifetime.
Can I Still Breastfeed with Implants?
In most cases, patients who were able to breastfeed before the breast augmentation procedure will be able to successfully breastfeed after the surgery. It is important for patients who expect to breastfeed after their breast augmentation to tell their plastic surgeon during the consultation process. This can ensure that the proper techniques are utilized so that there is the least amount of interference with the milk ducts as possible. Some women may find that they simply cannot breastfeed, which typically means that with or without breast implants, they may still have trouble nursing.
How Much Does Breast Augmentation Cost?
The average cost of breast augmentation at our practice ranges from $6,750 – $8,000. The overall expense differs for each patient and depends on the following variables:
Type of implants used
Surgical technique utilized
Plastic surgeon's expertise
Geographic location of the practice
Surgical facility fees
Anesthesia fees
We want to help make breast augmentation as affordable as possible. This is why our practice accepts a variety of payment methods and partners with reputable third-party lending companies, such as CareCredit® and Prosper Healthcare Lending. With the help of these financing companies, qualified patients can have convenient payment plans that fit their budget. During your consultation, your breast augmentation treatment plan will be customized and a member of our team can give you a more precise cost estimate. We will also go over your financing options and answer any questions you may have regarding the payment process.
Book a Breast Augmentation Consultation
If you are interested in learning more about breast augmentation or would like to schedule an appointment with Dr. Schantz or Dr. Turner, please contact our office today.