Skip to main content
Modified or Mini-Tummy Tuck
For many people, getting a flat, toned stomach can feel like a distant fantasy. Stubborn fat is often stored in this area, and women who have had one or more children or people who have achieved significant weight loss often have loose skin hanging from the abdomen. The expert plastic surgeons at Waldman Schantz Turner Plastic Surgery Center and Skincare in Lexington, KY, are pleased to offer mini tummy tuck surgery to patients who can achieve a beautiful abdominal region with a slightly less invasive procedure than a full abdominoplasty.
What is a Tummy Tuck?
An abdominoplasty, also known as a tummy tuck, is a cosmetic surgical procedure to resolve sagging skin, stretched out muscles, and excess fat in the abdomen. The traditional tummy tuck targets the entire abdominal area, and typically involves repositioning the belly button and tightening the abdominal muscles if they have separated. Unwanted fat is removed, and excess skin is trimmed. It is an extremely effective procedure that can smooth and flatten the entire abdominal area. A mini tummy tuck is a slightly less intensive version of this procedure.
Traditional Full Tummy Tuck vs. Mini Tummy Tuck
The tummy tuck is a very popular procedure for restoring the aesthetics of the stomach area, but there are some drawbacks to the procedure. A large incision must be made from hip to hip, and while this does not show under clothing or most bikini bottoms, it does give some patients pause for moving forward with surgery. For some people, the full tummy tuck, or abdominoplasty is still the right choice. For others with less sagging skin and little to no abdominal muscle separation, however, a mini tummy tuck can provide many of the same benefits with a slightly less invasive procedure and a smaller scar.
A mini tummy tuck focuses only on the lower abdominal region—the area below the belly button. The procedure can still accomplish many of the same goals of a full tummy tuck. Excess stubborn fat can be sucked away via liposuction, minor to moderate loose skin resolved, and the lower abdominal muscles can be tightened. The navel is not repositioned during this procedure. This procedure is appropriate for patients who are happy with their upper abdominal area, and do not have severe skin sagging.
Benefits of a Mini Tummy Tuck
Although the mini tummy tuck still results in a fairly significant scar, the incision will be shorter, and there will be no incision near the belly button. Patients will still need to plan for some recovery time, but only the tissues below the navel will be altered. For this reason, the recovery is a bit easier than that of a traditional full abdominoplasty.
Aside from the physical benefits of a flatter lower abdomen, many patients also experience emotional benefits. Most patients who choose a mini tummy tuck find that their self-esteem is boosted and they feel more confident after they have recovered. They may feel more confident in swimwear or form-fitting clothing and during intimacy.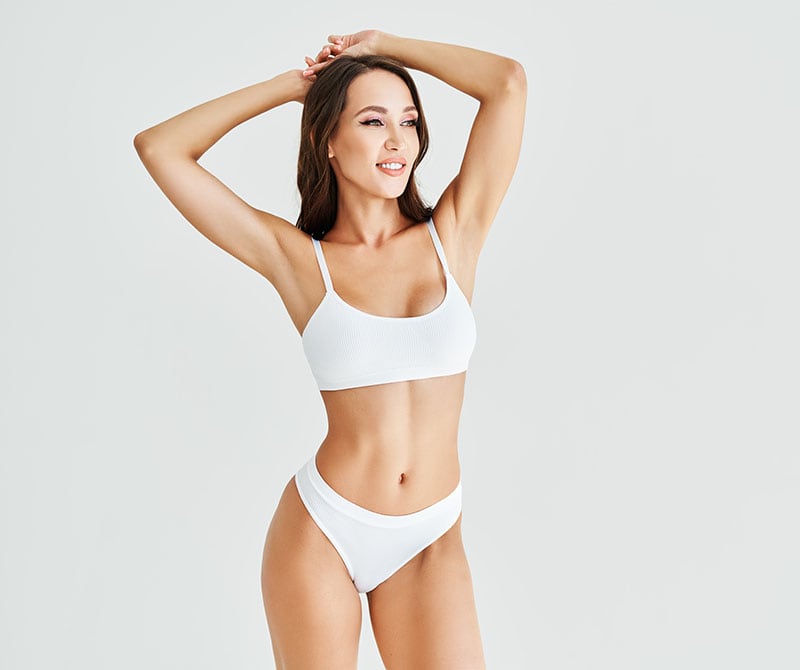 Good Candidates for a Mini Tummy Tuck
Men and women who are frustrated with loose skin and excess fat in the lower abdominal area can be good candidates for the procedure. Patients should be adults in good health who do not have any medical conditions that could pose a safety issue or compromise the results of the mini tummy tuck surgery. Good candidates are people who are at or near their goal weight. Women seeking mini tummy tuck surgery should be done having children, since future pregnancies could distort the results.
It is important that patients choose a mini tummy tuck because it is truly the right procedure for them, and not because it is slightly less invasive than a full tummy tuck. People who are concerned about the appearance of their upper abdominal area, have significant sagging skin, or have very loose abdominal muscles may be better served with a traditional tummy tuck.
Patients should have realistic expectations for the results of the procedure. Before-and-after photos can help prospective patients establish what can and cannot be achieved with a mini tummy tuck and a full tummy tuck. Our expert surgeons at Waldman Schantz Turner Plastic Surgery Center and Skincare work with each patient in a private consultation to determine the appropriate procedure for their needs.
A Mini Tummy Tuck Consultation in Lexington
Before the surgery can be scheduled, patients will need to discuss their goals and medical history with one of our plastic surgeons in Lexington, KY. This will not only allow our surgeons to ensure the patient is healthy enough for surgery, but help determine which type of abdominoplasty is most appropriate.
During the consultation, the surgeon will ask questions about the patient's goals, expectations, and health history. They will make a recommendation as to the best treatment plan for the patient's individual needs and expectations. This is a great opportunity for patients to get to know our surgeons, to learn more about the procedure, and to address any questions or concerns.
The Mini Tummy Tuck Procedure
Patients who decide a mini tummy tuck procedure is the right option for them can expect an outpatient procedure. Someone should be available to drive the patient home and help out for the first few days.
Before the procedure, patients will be given anesthesia. This may be either general anesthesia or local anesthesia with IV sedation. Once the patient is anesthetized, the surgeon will make the incision. This is typically made just above the pubic area. Some of the skin above the incision line will be trimmed to tighten loose skin at the end of the procedure.
Once the incision has been made, fat may or may not be removed, depending on the patient's goals and the amount of fat in the area. Muscles underneath will then be tightened for a smooth, taut appearance. Once these changes have been made, the skin will be re-draped over the muscles and trimmed for a smooth and natural contour. The incision will be sutured and dressed, and patients will enter recovery.
Recovering from a Mini Tummy Tuck
During the procedure, the surgeon may place drains to remove excess fluid. These will be removed within a couple of days, typically. Patients should expect swelling, bruising, and changes in sensation. These side effects will fade gradually in the coming weeks. Prescribed pain medication will help patients stay comfortable during initial healing. Light activity is recommended after the first day, to help promote circulation.
After the first 1-2 weeks, patients can return to non-strenuous normal activities, such as desk jobs. Vigorous exercise and more strenuous activities like picking up children must be postponed for several more weeks. Postoperative instructions will be provided, and should be followed closely to prevent complications and promote proper healing. This will help to optimize results.
Mini Tummy Tuck FAQs
How long does a mini tummy tuck take?

Typically, a mini tummy tuck takes about 2-3 hours to complete. It is important that the surgeons are able to take their time and produce the best results possible.
What are the risks of a mini tummy tuck?

What are the risks of a mini tummy tuck?

As with all surgical procedures, there are some risks associated with a mini tummy tuck. These can include bleeding, infection, poor healing, unfavorable naval placement, persistent numbness, unfavorable scarring, fluid accumulation, or a poor aesthetic outcome. You surgeon will explain both the risks and what can be done to minimize them. Choosing an experienced plastic surgeon to perform your surgery reduces the risk for complications. You should also follow all pre and post-operative instructions closely to minimize risk.

What happens if I get pregnant after a tummy tuck?

There is no danger to you or your baby if you get pregnant after a tummy tuck. However, pregnancy will almost certainly undo most of the changes made during the mini tummy tuck surgery. It is best for women to seek a mini tummy tuck only after they are done having children to preserve the results for as long as possible.

Can I have a full tummy tuck if I decide I want one later?

Although it makes more sense to choose the appropriate procedure for you from the beginning, there is no reason you should not be able to get a full tummy tuck if you decide you would like additional correction after a mini tummy tuck.

What do I need to do to prepare for surgery?

You may be asked to stop taking certain medications prior to the surgery. You should continue to maintain a healthy diet, exercise regularly, and drink plenty of water. This will help you recover more quickly and enjoy better results.

When will I see the final results?

Residual swelling can take several months to resolve. Although you will see nearly the final result after a few months, the final results typically settle by six months after the procedure. You will see results right away, but they will be distorted due to swelling. It is important to have patience and understand that the area will look worse before it looks better.

How obvious will the scar be?

While the scar for a mini tummy tuck is not as large as one made for a full abdominoplasty, it is still significant. Your surgeon can advise you on techniques for minimizing the appearance of the scar. Most patients find that the results of the procedure are worth the scar that can be hidden underneath clothing or swimwear.

Will a mini tummy tuck get rid of stretch marks?

If skin is removed during the procedure that has stretch marks, those will be removed as well. However, not all stretch marks can be resolve during a mini tummy tuck, especially if they are on the hips or upper abdomen.

Is a mini tummy tuck good for weight loss?

A mini tummy tuck is not a weight loss procedure. It is a good solution for loose skin and muscles, as well as a small amount of stubborn fat. However, the tissue and fat removed is minimal, and is intended to contour the body, rather than providing weight loss. Patients will often see dramatic differences, however, and clothes typically fit better. Good candidates for the surgery are at or near their goal weight.

Can a mini tummy tuck be combined with other procedures?

Many patients, especially women, choose to undergo a combination procedure. Moms who elect to undergo a mini tummy tuck and breast enhancement often refer to their combination procedures as a "Mommy Makeover". You and your surgeon can come up with a customized treatment plan to suit your unique needs.
Expert Abdominal Sculpting in Lexington, KY
At Waldman Schantz Turner Plastic Surgery Center and Skincare, our plastic surgeons are renowned for their skill in body and facial surgery. Because they offer facial, body, and non-surgical treatments, patients can have all of their aesthetic needs met under one roof.
Patients who are interested in learning more about the mini tummy tuck can schedule a consultation at our Lexington, KY offices at 1-859-254-5665.