Skip to main content
Breast augmentation is the number one plastic surgery in the United States, with over 250,000 patients in the last year alone. During the procedure, silicone or saline breast implants are inserted below the skin to enhance a woman's natural curves by increasing breast size. Many women with naturally small breasts turn to breast implants to balance their figures and create the classic hourglass silhouette, enjoying the increased femininity implants provide. Breast augmentation can also address breast asymmetry or serve as a restoration procedure after mastectomy. Following pregnancy, women may find that their breasts transform from full and voluptuous to drooping and deflated. Implants can increase the volume of the breasts to restore their pre-pregnancy size and shape, a procedure that is typically paired with a breast lift either on its own or as part of a mommy makeover. A skilled plastic surgeon can expertly enhance a woman's breasts, but occasionally, women do not receive the results they are looking for or need their implants replaced. Dr's. Schantz and Turner of Waldman, Schantz, and Turner Plastic Surgery Center and Skin Care in Lexington, KY specialize in performing breast implant revision surgery to help correct issues caused by prior breast implant procedures.
Breast Augmentation and Breast Revision
Breast implants are intended to be permanent, but may require replacement for a number of reasons. Some patients dislike the outcome of their breast augmentation due to irregularities in the look and feel of the breasts. The breasts may appear too close together or too far apart, higher or lower than expected, or they may require replacement due to unforeseen complications and unexpected issues during the healing process. Infection and capsular contracture, where the body reacts to the implants and forms constricting scar tissue around them, will cause a firm feeling in the breast. Women may request a large cup size that their breast pocket cannot accommodate, causing rippling of the implants that may be visible. Most patients who undergo breast augmentation seek a large yet natural bust, and these effects can lead to an artificial look.
Breast implants can become damaged through trauma and old implants may break down and leak over time. Unfortunately, a patient's healing process and implant stability cannot always be predicted. Due to material and engineering advancements, implants placed 10 or more years ago may need to be substituted with newer models. Breast augmentation revision provides patients with a superior surgical outcome by using the best techniques and implants available in modern aesthetic medicine.
Candidates for Breast Implant Revision Surgery
Women who are not satisfied with their augmentation results or are experiencing breast implant complications may be eligible to undergo a secondary breast surgery to address their concerns. Healthy women who have sufficient tissue remaining in the breasts and are realistic about the expected results of revision surgery are ideal candidates for the procedure. In most cases, patients must wait until their breasts and surrounding tissues have fully healed prior to undergoing breast implant revision surgery. This requires about 6 months and ensures that the breasts have settled into their final position, since their appearance will change throughout the course of healing.
Some women worry about additional scarring with a second procedure, but surgeons typically use the existing incision lines when customizing your revision plan.
Breast implant revision is sometimes performed during breast reconstruction, as there are various techniques to address post-surgical breasts.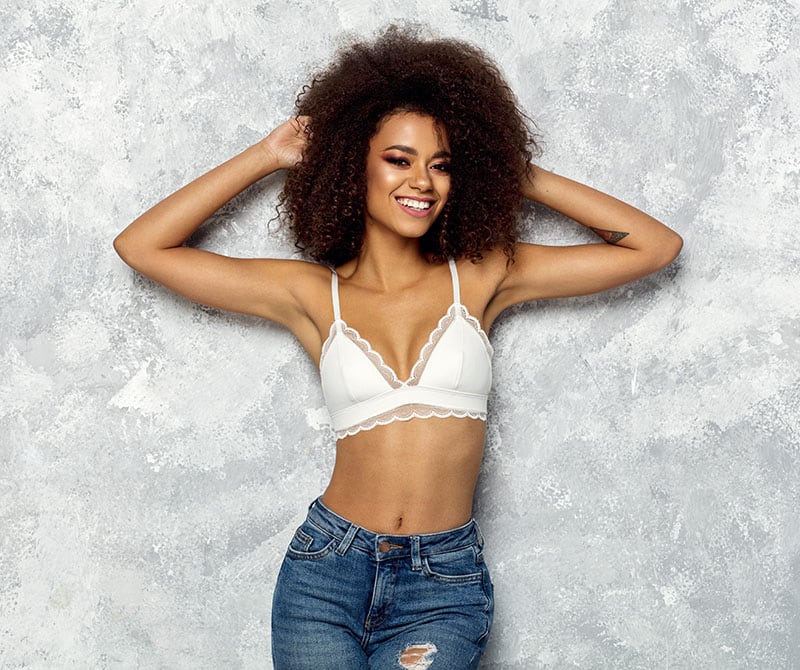 The Secondary Surgery Consultation
Prospective patients will engage an in-depth question-and-answer session with their plastic surgeon regarding the surgery details to ensure the follow-up procedure is more successful than the first. It is best to have your medical records sent to our office or bring them with you to the consultation so that we may better understand your problem and advise you accordingly. During the surgical consultation, the doctor will provide guidance on the options that will best suit each woman's needs, as no two pairs of breasts are exactly alike.
The surgeon begins the meeting by learning about the patient's medical history to help ensure their safety during surgery. They will also examine the breasts and observe the look and feel of the existing implants, noting the skin's elasticity and any obvious issues.
For more extensive cases, the surgeon may ask to see the patient a second time to discuss the patient's full medical findings. They will provide a surgical plan, though breast implant revision may present unforeseen circumstances once the procedure begins. This is common when a different surgeon performed the first augmentation.
Breast Implant Revision – The Surgery
Before the surgery, the plastic surgeon will meet with the patient to go over the plan for the procedure and discuss any last-minute details. The doctor will make surgical markings so he can address each request the patient has for the surgery. The patient is then escorted to our private AAAASF accredited operating suite. After anesthesia has been administered and the patient is connected to an advanced monitoring systems to provide a safe and comfortable procedure, and then the surgery can begin.
The patient's skin is first thoroughly cleansed. Then, incisions are anesthetized and the patient's goals are addressed through different variations of breast implant revision surgery. The first step is to remove the old implants and replace them with a newer set for an improved aesthetic. Depending on the patient's goals, the surgeon may remove scar tissue and reinforce the breast pocket where the implant is situated. Saline-filled implants can be filled once placed and tend to require smaller incisions, while silicone implants are place at their full pre-filled size. Once all the desired changes have been made, the surgeon will suture up the surgical incision. Drains may be installed if necessary. These release fluid to prevent swelling in the region, which allows for a faster and more comfortable healing process. Lastly, the patient is bandaged and may be fitted with a post-surgical bra.
Surgery Aftercare
Breast implant revision is performed on an outpatient basis. Patients are free to be discharged once they are awake and alert after the surgery. Cold compresses and ice packs, pain medications, and a comfortable recovery area should all be ready for the patient's return home. A special supportive bra will be worn for a few weeks following the procedure to help support the new breast shape. Healing from breast implant revision is much like that of the initial breast augmentation. Patients should not sleep on their sides or stomach for the next several weeks.
Breast Implant Revision FAQs
What is revision breast surgery?

A secondary breast implant surgery is performed following a breast implant procedure that resulted in an undesirable outcome or complications. These issues can vary. The healing process may have been impacted by infection or the formation of scar tissue. The breasts may not have been the right size for a patient's aesthetic preferences, or their positioning on the chest wall was not as expected. In other cases, patients' preferred look changes over time, and they may opt for a more natural or dramatic breast size. Older breast implants may develop problems under the skin and require a surgical fix. Regardless of the reason, a revision procedure can address issues with a previous breast augmentation.

How long is the healing process?

After complex surgeries, the recovery period may be extended while a more basic procedure requires less downtime. A patient's health can also influence healing. Unless a patient has experienced complications following their first breast augmentation, they can expect to follow a similar course of healing after revision breast implant surgery.

Does the doctor create additional scars?

Whenever possible the surgeon enters the breast tissue through the same incision lines made during the initial surgery. When other cuts must be created, they are cleverly camouflaged in the natural skin creases or in less obvious areas of the breast. In some cases, incisions may be created around the areola or in the underarm.
About the Doctors
The board-certified plastic surgeons at Waldman, Schantz, and Turner Plastic Surgery Center and Skin Care are dedicated to ensuring that each patient is given a custom treatment plan that enhances their natural beauty. The doctors have decades of experience between them and excel at procedures of the body and face. Their skill in breast enhancement helps patients regain their confidence and look and feel fantastic.
Contact Waldman, Schantz, and Turner Plastic Surgery Center and Skin Care at 1-859-254-5665 or through the Online Contact Form to schedule a breast implant revision consultation in Lexington, KY.