Our Staff
Paula Austin – Clinical and Surgical Assistant
Paula is a native Kentuckian. She holds a CMA from Morehead State College. Paula has been with Waldman Schantz Plastic Surgery Center since 2002, and serves as Dr. Waldman's primary Medical Assistant.  She brings extensive knowledge and expertise on all Facial Plastic Surgery subjects to the practice.  Paula works diligently with each patient to ensure they have a thorough, safe, and enjoyable aesthetic experience during surgery as well as non-invasive treatments.  She lives here in Lexington and enjoys writing, exploring, and meeting new people.
Miranda Dean – Nurse
Miranda comes to us from Columbus Ohio. She studied at the University of Kentucky and is a graduate from St. Catherine College with an Associate degree of Science in Nursing. She has over three years of professional experience in critical care nursing. She is a registered nurse and is also certified in basic life support and advanced cardiac life support. Miranda is very active in our surgical area and also facilitates patient care in our clinical setting. She and her husband are proud parents of two beautiful girls ages 3 months and 2 years old. She also has two sweet boxers ages 4 and 5.
Cori Doyle – Marketing Coordinator/Patient Concierge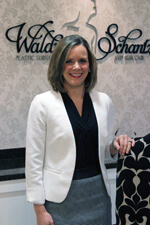 As a native Lexingtonian, Cori graduated from the University of Kentucky with a degree in Integrated Strategic Communications. She joined our team in March of 2015. Cori is in charge of all marketing planning and execution for the practice, as well as patient relations and communications. Her top priority is to make sure that we are in constant communication with our patients in order to make sure that their every need is being met. She strives to continually enhance the patient experience. She is a wife and mother of two young boys, and enjoys spending time outdoors with her family, working out, and traveling.
Laura Harris – Office Administrator
Laura was born and raised in Lexington, KY. She attended high school at Lexington Christian Academy and Graduated College at the University of Kentucky. Laura joined Waldman Schantz in February of 2014, and serves as the primary Patient Coordinator for the practice.  She oversees scheduling, insurance, patient communications, and office administration, ensuring a thorough and enjoyable patient experience.  Laura and her husband live here in Lexington with their beautiful daughter, Olivia, and enjoy spending time with family and friends.
Shanah Marcum – Surgical Tech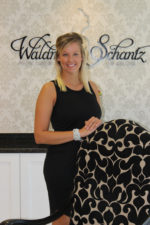 Shanah Marcum is a 2012 graduate of National College. She was born, and still resides in KY and currently serves as our leading ScrubTech. She is a mother of two kids and wife of a military veteran. Her passion for her work speaks for itself, as Shanah strives to maintain a sterile, safe and professional workspace inside the operating room. In her nearly two years with us Shanah's innovative ideas have helped put systems and procedures in place to ensure that our clients receive the best possible care and consideration within their surgical experience. She dedicates herself to solidifying our reputation as the area's foremost plastic surgery center.
Marianne Waldman – Skincare Director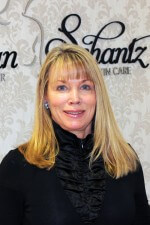 Marianne Waldman is a graduate of Indiana University School of Nursing. She began her nursing career in Louisville, Kentucky and she has been employed by the prestigious Cleveland Clinic and the Oschner Clinic in New Orleans, Louisiana. After several years directing the OR and Recovery Room for Waldman Schantz Plastic Surgery Center, she founded the Lexington Skin Care Division at the center. She served on the advisory board for Rejuvena Skin Care and received specialty certification from Physicians Choice of Arizona and Palomar Medical Technologies.
Morgan Curry – Nurse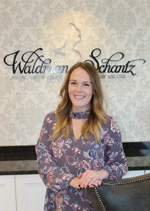 Morgan Curry is from right here in Lexington, KY. She has an Associates of Science in Nursing from Midway and a Bachelors of Science in Nursing from Eastern Kentucky University. She is also a Doctoral Graduate Student Candidate at the University of Kentucky. Her certifications include: RN, BSN, BLS, ACLS, and she is an AACN member. In our practice, she loves getting to meet a variety of people and seeing their progress throughout their journey with us, from beginning to end. She is recently married and enjoys spending time with her 2 labradoodle children and working out.
Neka Silcox – Medical Assistant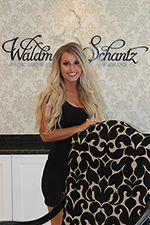 Neka Silcox came to Lexington from Huntsville, Tennessee. She attended Roane State Community College and holds a CCMA from the National Healthcareer Association. Neka not only serves as a medical assistant but is involved in multiple aspects of the practice including both clinical and administrative duties. She is very passionate about the plastic surgery industry and is thrilled to be part of the Waldman Schantz Plastic Surgery team.
Madison Hollin – Accounting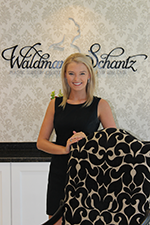 Madison moved to the Lexington area from London, KY. She joined our staff as an accounting intern in April 2017. She is currently working towards her B.B.A. in Finance from the University of Kentucky and will be completing her degree in December of 2017. She came to our office with 3 years of accounting experience and is looking forward to expanding her knowledge of both the financial and healthcare fields at our practice.