Skip to main content
The abdomen is a focal point of the body. It affects the curves and contours of the rest of a person's silhouette. It is also a common "problem area" where stubborn fat tends to accumulate. Unfortunately, it is difficult to camouflage concerns in this area, and both men and women tend to feel self-conscious when the contours of the stomach are not tight and toned. From wearing oversize clothing to compression garments, the stomach can only be hidden if people are willing to sacrifice their comfort or style. When diet and exercise are unable to achieve your desired results, plastic surgery may be the best option. The tummy tuck is a popular and effective procedure performed by the plastic surgeons of Waldman, Schantz, and Turner Plastic Surgery Center and Skin Care in Lexington, KY that can instantly create a trimmer midsection.
What is a Tummy Tuck?
Tummy tuck surgery, also known as abdominoplasty, is a surgical procedure that helps patients achieve a slim and tight abdomen by tightening the underlying abdominal muscles and removing extra skin and fat (via liposuction) in the area. Although weight loss can reduce the amount of unwanted fat in the tummy area, certain factors such as weak abdominal muscles, pregnancy, or excess skin resulting from weight loss can lead to bulk that can only be corrected through surgery.
Because a number of different tissues and structures are involved in the abdominal aesthetics, liposuction alone is not always the best option for treating a belly "pooch." A tummy tuck is performed to restore and rejuvenate the abdominal wall, which refers to the area from below the chest to the pubic region. Pregnancy and weight gain can stretch these tissues beyond their maximum capacity, requiring surgical intervention to restore them. Tummy tuck surgery is suggested for women who do not plan on having any more children, and both men and women who are committed to maintaining their weight. Any significant weight gain following surgery can cause the skin to stretch and reverse the benefits of the procedure.
Who Is a Good Candidate for Tummy Tuck Surgery?
If you find it hard to get rid of stubborn fat through traditional dieting and exercise, then a tummy tuck may be an optimal treatment option for you. Ideal candidates are usually individuals who are in overall good health and have realistic expectations of the outcomes that can be achieved. It is important to keep in mind that a tummy tuck is not intended to be a weight loss surgery. Before the procedure, patients should be at or near their goal weight that they know they can maintain.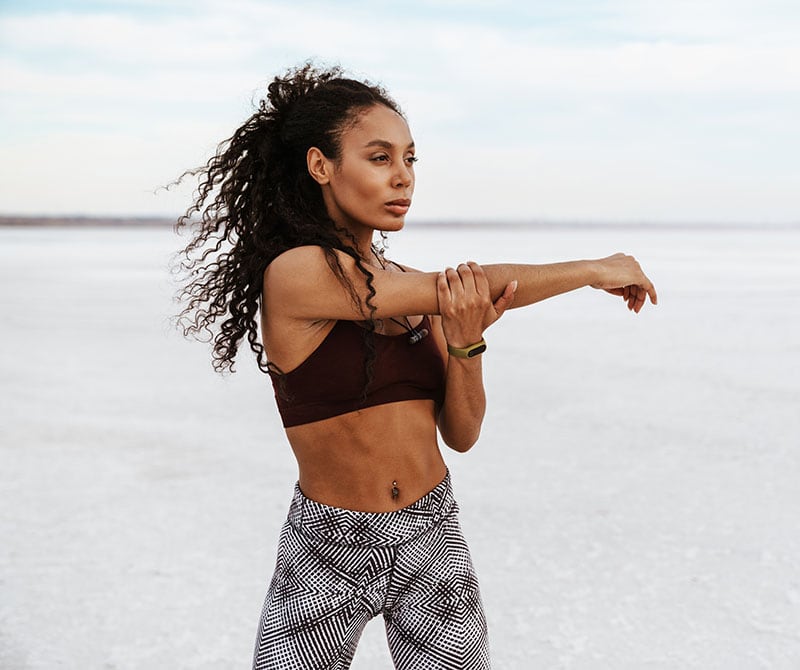 Are There Different Types of Tummy Tucks?
Mini Tummy Tuck
A mini tummy tuck is designed for people with lax skin, excess fat (which gets removed via liposuction), and/or stretched abdominal muscles only below the belly button. Since the procedure takes place below the belly button, the belly button and upper abdomen will not be affected. If the entire abdomen needs to be addressed, then a full abdominoplasty may be a better option. Advantages of a mini tummy tuck include a smaller incision, fewer sutures, and reduced recovery time when compared to a full tummy tuck.
Full Abdominoplasty
Patients with larger amounts of fat (which gets removed via liposuction), loose skin, and/or weakened or stretched muscles in the upper and lower abdomen may find that a full abdominoplasty is the best treatment for their aesthetic goals. If you would like to address stretch marks, a full abdominoplasty can help improve those areas as well, as long as the stretch marks are in a region of the abdomen where skin will be removed during the tummy tuck surgery. Candidates are usually people who have had multiple pregnancies or a C-section, lost a significant amount of weight, or carry most of their stubborn fat and excess skin in their midsection. Since the procedure is addressing a larger area, the incision will be longer than that of a mini tummy tuck. The incision usually runs from hip bone to hip bone, but the resulting scar can often be easily concealed with undergarments and bathing suit bottoms.
Extended Abdominoplasty
An extended abdominoplasty is designed to reduce lax skin and excess fat (via liposuction) not only in the stomach area, but in the flank area (love handles) as well. This allows the body to be contoured more uniformly. The incision for an extended abdominoplasty is usually made along the length of the abdomen and extends toward the back of the hips.
Abdominoplasty 360
Abdominoplasty 360 is a unique body contouring technique that addresses extra fat (which gets removed via liposuction) and sagging skin in the midsection of the abdomen and back. This can be a great option for patients who would like to reduce "muffin tops," bra rolls, flanks, and back fat for a more dramatic transformation.
What Does the Tummy Tuck Consultation Involve?
Patients who would like to improve the look of their midsection can schedule a doctor-patient consultation with one of our talented surgeons in Lexington. During the appointment, the doctor will thoroughly review the patient's medical history and assess the look and feel of the abdomen. A discussion of the patient's goals will take place, and the patient is welcome to ask any questions they may have about the procedure. The doctor can then recommend the best procedure to achieve the patient's individual aesthetic ideals.
How Is the Tummy Tuck Procedure Performed?
We perform this operation either under sedation anesthesia in the surgery center or under general anesthesia with a partner-hospital, the surgeon removes unwanted fat using liposuction or excision techniques, tightens the abdominal muscles and tissues, and pulls the remaining skin taut for a smooth and toned appearance. The setting for the procedure will be determined during your consultation and is dependent on many factors. Patients desiring multiple procedures, patients with any health problems or elevated BMI (body mass index) will likely have their operation performed in the hospital setting.
During a mini tummy tuck, the doctor will remove unwanted fat and trim away excess skin. This will result in a shorter linear scar that can be hidden by underwear or bathing suit bottoms. The surgery creates a smoother low-midsection with natural-looking contours. Patients should notice their clothing fits better and they no longer have a pronounced pooch above the pubic region.
The doctor may require the patient to remain overnight in the hospital, with discharge the following day. This allows medical staff to observe the patient and respond quickly if any post-surgery complications arise. The procedures are normally performed at the University of Kentucky Good Samaritan Hospital or St Joseph East Hospital Women's Center. Patients who opt to undergo liposuction, mini-tummy tuck, or full abdominoplasty can be treated in the practice's accredited surgical facility.

What Is Recovery Following a Tummy Tuck Like?
Tummy tuck patients may experience some swelling, soreness, or bruising after the procedure. Pain medications can help soothe any pain or discomfort you may feel during the healing process. We usually recommend that patients take two weeks off from work to allow ample time for the body to recover. Patients should wait at least six weeks to return to sports or more rigorous exercises.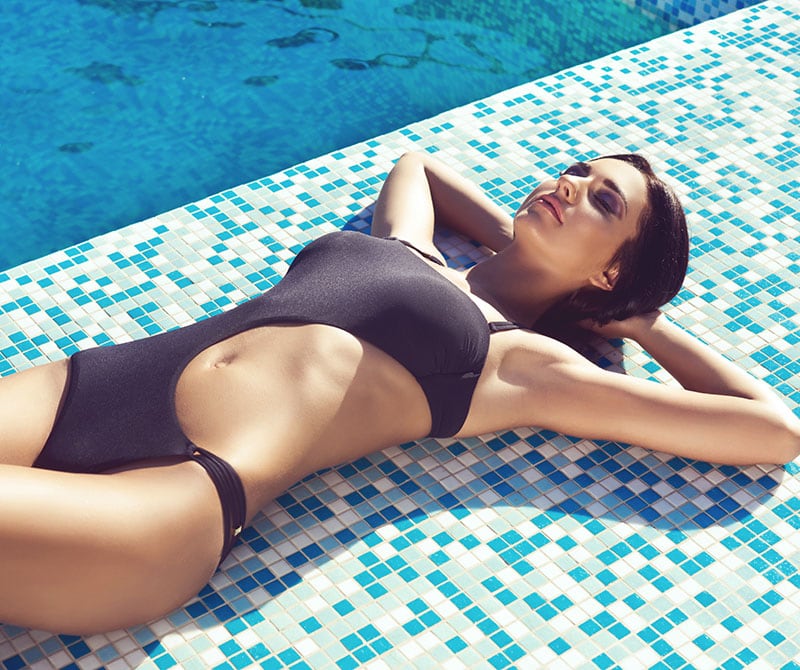 Are There Risks Involved with Tummy Tuck Surgery?
Like any other surgical procedure, a tummy tuck comes with some degree of risk and possible complications. Some general risks include an infected incision, poor wound healing, dissatisfaction with results, and/or allergic reactions to anesthesia or surgical materials. During your consultation, your plastic surgeon will go over the potential complications of tummy tuck surgery and will be able to address any questions you may have.
Our plastic surgeons' highest priorities are the health and well-being of our patients. During the procedure, our doctors will take every precautionary measure to make sure that you have a safe surgery. You will also be given detailed post-operative instructions to promote proper healing and minimize the risk of complications after surgery.
Our overall recommendation to tummy tuck patients is, before going forward with treatment, make sure to select an experienced, board-certified plastic surgeon to perform the procedure—one who is committed to the highest standards of safety and ethics.
How Much Does a Tummy Tuck Cost?
A tummy tuck is tailored to each patient's needs and cosmetic desires, so the cost varies. At Waldman, Schantz, and Turner Plastic Surgery Center and Skin Care, tummy tuck surgery generally costs between $9,000 and $11,000. Factors that can affect the overall expense of treatment include:
Complexity of the procedure
Whether liposuction is included
Surgeon and anesthesia fees
Post-operative garments
Prescriptions for medication
At your initial consultation, our team can provide you with a more precise cost estimate. For payment, we accept cash, checks, and all major credit cards. We also partner with CareCredit® – a financial lending company that offers convenient payment plans for qualified patients – and Prosper Healthcare Lending – a healthcare service lender that provides installment loans – to help tummy tuck surgery fit our patient's budget. If you would like to learn more about our convenient payment methods or financing options, we invite you to contact our office. A knowledgeable member of our team will be happy to assist you and answer any inquiries you may have.
Are There Complementary Procedures to Pair with a Tummy Tuck?
It is not uncommon for patients to want to maximize their results by combining their tummy tuck with other complementary procedures. Here are a few cosmetic treatments that you may want to include with your tummy tuck:
Liposuction. A tummy tuck can effectively remove excess skin and reposition stretched muscles; however, if extra fat is present in the abdomen, liposuction is needed to remove the fat deposits from under the skin. This combination results in a more contoured appearance that could not be achieved with tummy tuck alone.
Breast Augmentation. Women with small breasts may feel that their body lacks natural balance and curvature. Breast augmentation adds volume to the chest, which can create a slimming effect in the waist.
Brazilian Butt Lift. The Brazilian butt lift process involves injecting purified fat into the buttocks. If you want to remove stubborn fat deposits in the abdomen, it would be beneficial to utilize that fat in a Brazilian butt lift procedure. By combining a tummy tuck/liposuction and Brazilian butt lift, you can achieve a slimmer waist while improving the shape and size of your butt.
Each patient's needs are unique, and complementary procedures can be discussed during the consultation.
Schedule a Tummy Tuck Consultation
To learn more about tummy tuck, or to schedule an appointment with one of our highly-skilled plastic surgeons, we encourage you to contact our office today.