Skip to main content
Am I a candidate for an Arm lift?
If you have unsightly sagging skin on the upper arms due to aging, genetics, or weight loss, arm lift is the right procedure for you.
What can I expect during arm lift surgery?
In order to remove the unwanted skin, an incision is required that runs from the elbow into the armpit. The incision is placed in the most inconspicuous location (inner arm toward the back) so that it will not be very visible to the eye.
How long is the recovery period?
After surgery, the upper arms are either wrapped or placed in an elastic sleeve to reduce swelling. Initial healing usually occurs in 10-14 days, sutures are removed within the first 2-3 weeks, and swelling and bruising gradually disappear over 3-4 weeks.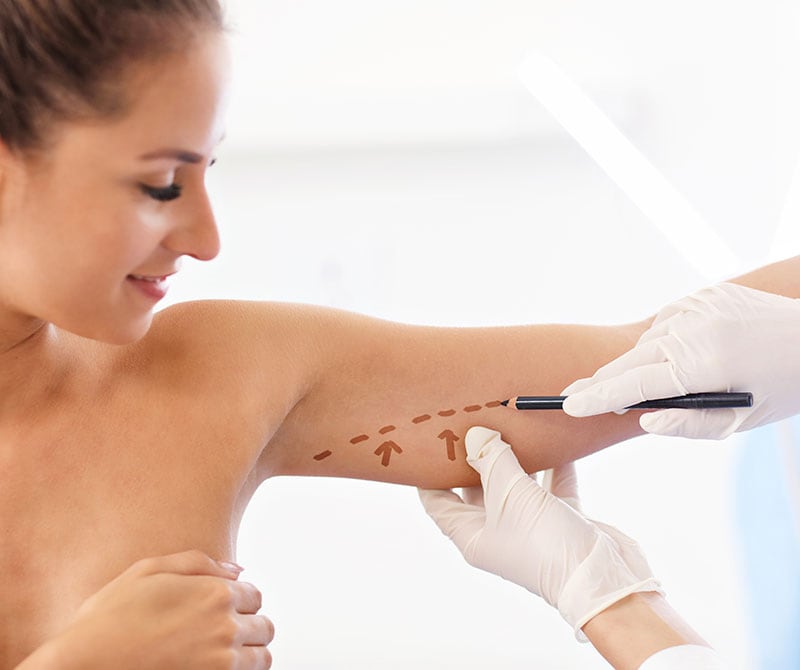 Where is arm lift surgery performed?
Dr. Schantz performs brachioplasty as an outpatient. This procedure is usually done under a general anesthesia and takes approximately 3 hours to complete.
Are there risks associated with an Arm Lift (Brachioplasty) Procedure?
Brachioplasty is quite safe and most patients are satisfied with their results. As with any surgical procedure, there are risks and potential complications. Problems such as bleeding and infection can occur following any surgical operation and careful assessment of the risks and benefits of any proposed surgical procedure is an important part of the consultative process.