Skip to main content
While most people associate plastic surgery with procedures like a facelift or tummy tuck, there are many different areas of the body that can be improved with lifting procedures, including the thighs. The thighs, which are a common problem area, often acquire excess, poorly-distributed fat and sagging skin, negatively affecting the appearance and contours of the legs. The skin may become chafed during walking and exercise, and it can be difficult to find flattering clothing that minimizes the appearance of excess skin. A thigh lift can be a good treatment option for people who have experienced changes in the skin and aesthetics of the thighs and would like to improve their appearance. The experienced plastic surgeons at Waldman, Schantz, Turner Plastic Surgery Center and Skin Care in Lexington, KY, are pleased to offer the thigh lift procedure to help patients look and feel great.
What is a Thigh Lift?
A thigh lift is a cosmetic reshaping procedure that dramatically improves the aesthetics of the thigh area. This is a surgical procedure that is performed to remove excess tissue and tighten the upper leg area for a more youthful and attractive contour. Unlike liposuction, which is strictly used to remove unwanted stubborn fat, a thigh lift is a more comprehensive procedure that is focused on removing excess skin and improving overall contour. Patients who have excess sagging skin and poor fat distribution in the thigh area can gain a smooth, toned contour by opting for a thigh lift over liposuction alone.
Why Patients Choose Thigh Lift
Most people who choose thigh lift surgery do so to correct aesthetic problems following significant weight loss or after age-related changes to the thighs have occurred.
Many people who have lost a large amount of weight find that sagging skin from the thighs camouflages all their hard work. This tends to happen most often when the weight is lost quickly, and the skin is unable to retract and re-contour over the newly-slim thighs. Even after losing weight, patients seeking thigh lift typically feel self-conscious about their appearance due to loose skin and pockets of stubborn fat in the thigh area.
Aging can also affect the appearance of the thighs, just as it does in other areas of the body. Collagen and elastin loss weaken the skin as we age, creating loose, sagging skin that no longer retains its firmness and youthful vibrancy. While there are some minimally-invasive treatments available to help promote collagen regeneration, a thigh lift is more appropriate for patients who have moderate to severe sagging skin, as surgical tightening can produce the most dramatic results.
Benefits of Thigh Lift Surgery
There are many benefits to thigh lift surgery for the right patients. Patients who choose to undergo thigh lift surgery not only enjoy smoother, more youthful-looking skin and improved thigh contours, they also gain additional physical and psychological benefits as well. Some patients have painful chafing from excess hanging skin on the thighs that rubs together during movement. A thigh lift can solve this problem by eliminating the extra bulk. Patients have an easier time finding clothing that fits after a thigh lift, and often regain the confidence to wear shorts, bathing suits, and shorter skirts once again. Most patients find that they have more confidence and self-esteem overall after they have recovered from a thigh lift.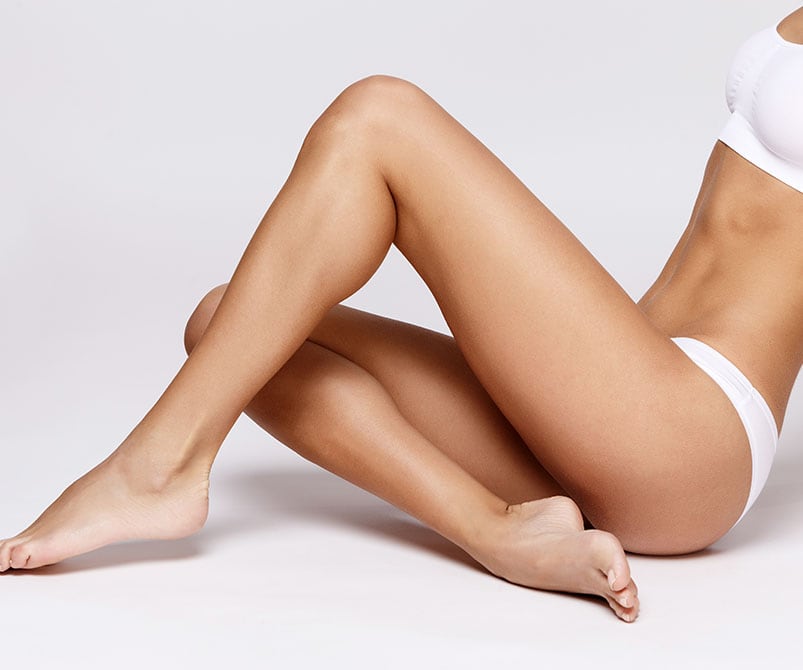 Who is a Good Candidate for a Thigh Lift?
The best candidates for thigh lift surgery are adults who have excess loose or sagging skin in the thigh area, with or without isolated stubborn fat. Patients who are interested in thigh lift surgery should ensure that they are at or near their goal weight before undergoing the procedure. Fluctuations in weight can affect the results, sometimes resulting in unpredictable further skin expansion or retraction.
Because the thigh lift is a fairly invasive procedure, patients should be in overall good health and be nonsmokers. Smoking often causes dangerous complications or cause poor healing.
It is key for thigh lift patients to be committed to the process and to have realistic expectations. It's a good idea to familiarize yourself with a range of before-and-after photos before your consultation so that you have an idea of what can be achieved with thigh lift surgery.
What to Expect from a Thigh Lift Consultation
Before undergoing thigh lift surgery, you will need to schedule a consultation with one of our expert plastic surgeons. This meeting serves several purposes. First, it allows you and your surgeon to get to know each other and discuss your goals for thigh rejuvenation. Second, it allows your surgeon to look over your individual circumstances and health to make sure you are a good candidate for the procedure. Finally, it gives you an opportunity to ask questions and get all the information you need to make a decision.
During the consultation, your surgeon will ask you questions about your goals and health. An exam will be performed, and photos may be taken for comparative purposes. Your surgeon will go over the procedure with you and make treatment recommendations. You'll have a chance to address any concerns you may have, and if you are a good candidate, you may schedule your procedure at a convenient time.
Thigh Lift Surgery in Lexington
Thigh lifts are performed most often as outpatient procedures, but there are times an overnight stay in the hospital may be warranted. Patients can be driven home by a trusted friend or family member after the procedure. General anesthesia is the typical anesthesia option for a thigh lift.
Once anesthesia is administered, our surgeons will begin by making the incisions. Thigh lift incisions can vary, since the length of the incision will depend on the amount of correction that is required. However, most incisions are made starting in the groin area, in order to camouflage scars from the procedure. In a more limited procedure, the incision may be completely hidden in this area. In other cases, incisions may extend down the inside of the leg or curve around the back of the thighs and across the back.
Through the incisions, the surgeon removes stubborn areas of stubborn fat, tightens and lifts underlying tissues, and removes excess skin. Then, the remaining skin is re-draped over the new contours of the thighs. The incisions are stitched closed. Temporary drains may be placed to reduce fluid buildup during the first few days of healing. The patient can then begin the recovery process.
Recovery and Downtime
It is best if patients have someone to stay with them for the first few days after surgery, if possible. Bruising and swelling should be expected, but patients should be able to control most discomfort with prescribed pain medications. Patients will be given specific instructions to follow during the recovery process, and should follow them closely. There will be activity restrictions initially, and patients should try to rest as much as possible. Most people go back to desk jobs within two to three weeks. Stitches may need to be removed 7-14 days after the procedure.
Thigh Lift FAQs
What are the risks of thigh lift surgery?

As with all surgeries, thigh lifts do have some associated risks. Some of these include bleeding, infection, asymmetry, skin discoloration, fat necrosis, changes in sensation, poor healing, or a poor aesthetic outcome. Your surgeon will explain all the risks to you before you make a decision. When performed by a qualified, safety-conscious plastic surgeon, complications are typically uncommon. Following all instructions before and after surgery helps minimize the risk. Most patients feel that the benefits of the procedure outweigh the risks.

I lost a lot of weight and have sagging skin all over my body. Can I combine a thigh lift with other lifting procedures?

This is common. Many patients wish to have a combination procedure to improve the contours of the body in several different areas. In many cases, procedures can be combined safely. If a patient wishes to make changes in many areas, however, the procedures may need to be split up into two or more surgical sessions for patient safety. Your plastic surgeon will let you know how much intervention is safe at one time.

Will a thigh lift get rid of my stretch marks?

Stretch marks can be difficult to treat, and many patients hope that a thigh lift will solve the problem of stretch marks in the thigh area. Any skin removed during the procedure that has been stretched will also remove the stretch marks in that area. However, the procedure will not resolve all stretch marks present on the thighs.

Will there be scarring after thigh lift surgery?

All surgery produces scarring. If the thigh lift procedure is extensive, more visible scarring will occur. Our surgeons minimize visible scarring as much as possible by hiding incisions in the natural folds of the body whenever possible. Many thigh lift patients can hide scars underneath clothing or bathing suits.

Are the results permanent?

Thigh lift surgery permanently removes excess skin and fat from the thighs. However, this does not prevent patients from gaining weight in the area or experiencing further age-related changed. If major weight fluctuations occur, the results may not last. Additional aging can also affect skin quality and contour. However, the results of the procedure are very long-lasting, if not permanent, as long as patients maintain a healthy lifestyle.

When can I exercise again?

After surgery like a thigh lift, patients may need to postpone strenuous activity for 4-6 weeks. Light activity (slow walking etc.) is typically encouraged soon after surgery to promote blood flow, circulation, and proper healing.

How can I maintain my results and promote good healing?

Following all of your surgeon's instructions is a key first step in ensuring good results. It is also important to make healthy lifestyle choices to promote good healing and maintain results. Eating healthfully, drinking plenty of water, protecting the skin from the sun, and avoiding cigarettes and alcohol can all help maintain results. Once patients have healed from surgery and are given the green light, they should exercise regularly and lead an active life to help prevent weight gain.

How long does a thigh lift surgery take?

Typically, thigh lift procedures take anywhere from two to four hours to complete.
Custom Thigh Lift Procedures in Lexington, KY
If you think you may be a good candidate for a thigh lift, it's important to consult with an expert plastic surgeon to plan your treatment. Our experienced surgeons are dedicated to customizing the thigh lift procedure to suit each patient's needs. To schedule your thigh lift consultation at Waldman, Schantz, Turner Plastic Surgery Center and Skin Care in Lexington, KY, call 1-859-254-5665 today.