Skip to main content
Correcting Breast Asymmetry
The breasts are the most visible and distinct characteristics of the female form, but they vary widely from one woman to the next. The size, shape, and positioning of the breasts are common differences, though an individual woman's breasts typically match each other. In some cases, however, they can be very different from one another. One breast may be larger than the other or their shapes may not match due to other dissimilarities. The plastic surgery experts at Waldman, Schantz, and Turner Plastic Surgery Center and Skin Care in Lexington, KY can correct breast asymmetry through a number of treatment options.
Issues with Asymmetry
Cosmetic
Women may feel self-conscious about the appearance of their breasts, especially during intimacy with a partner. It can be difficult to find bras that fit the uneven pair, and some women resort to adding padding to the cup of the smaller breast. Breast asymmetry might be visible in revealing clothing or a bathing suit, and women may change the style of their clothing to avoid embarrassment.
Medical
In some cases, generally when one breast noticeably changes over a short period of time, it may be the result of a medical condition and the patient should be evaluated by a doctor. Prior to undergoing any procedure for cosmetic breast asymmetry, the plastic surgeon may request special tests like blood work or a mammogram. However, most patients with asymmetry have been aware of the condition for some time and there are no causes for concern.
Why are Breasts Asymmetrical?
The breasts may not be a perfect pair for a number of reasons, one of the earliest being juvenile hypertrophy. The condition, while uncommon, results in irregular breasts where one grows much larger than the other. Other variations in the breasts are caused by the formation of breast tissue, where one breast grows more, though the disparity is not as significant and juvenile hypertrophy of the breasts and may be attributed to hormones. Trauma and congenital conditions may also impact breast growth.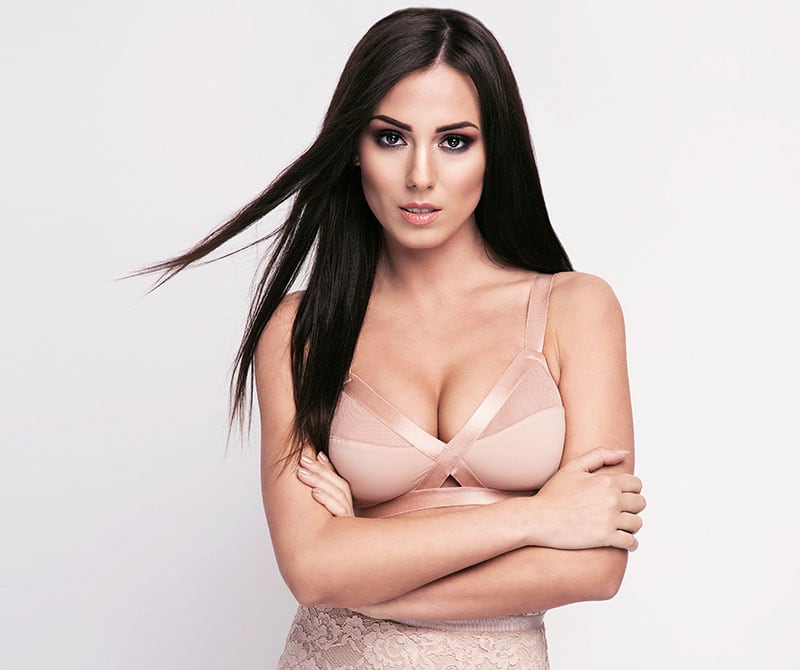 Regular Breast Changes
Women may notice that their breasts change with their menstrual cycle due to hormones. The breasts may swell slightly, and feel irritated or especially sensitive. During this time, the breasts will also feel very full and can appear larger. Both breasts are affected in the same ways, though this is temporary.
Methods for Breast Matching
Depending on a patient's needs, a single procedure may be performed, or different surgeries are combined to offer the best result. During the consultation the doctor can discuss options and advise which changes are necessary to result in the patient's requested aesthetic. Each procedure is customized to meet the patient's unique needs.
Breast Augmentation with Implants
When a breast augmentation is performed because one breast is larger than the other, a breast prosthesis or implant may be inserted below one breast or both breasts, and the implant volume is adjusted accordingly. Breast implants are all composed of silicone shell and filled with either silicone gel or saline solution. Breast implants are an ideal solution in breasts that are dramatically different in size.
Breast Augmentation with Autologous Fat Transfer
Fat transfer is a popular surgical method for resolving asymmetry and increasing the volume for one or both breasts. During the two-part procedure, the doctor uses liposuction to remove the patient's fat from areas of excess, like the abdomen or thighs.  We then mechanically purify it, and inject it into the deficient areas and contours of the breasts. This procedure can be performed a second time if too much fat disappears or the patient wishes to increase the volume. Fat transfer is performed only for minor size differences among the breasts or specific areas of deficiency.
Breast Reduction (Reduction Mammoplasty)
Patients who have asymmetrical breast size may be happy with the volume of the smaller breast, and choose to undergo breast reduction on the larger breast instead. During the procedure, tissues are surgically removed and repositioned to result in a smaller bust. Liposuction can be performed if the patient has extra fat that can be removed from the breast or into the axilla (side of the chest).
Breast Lift (Mastopexy)
When one of the breasts is positioned lower than the other, a breast lift surgically repositions the breast on the chest wall so it mirrors the look of the other breast.  Tissues may be surgically excised, resulting in an improve breast shape with restored firmness. The nipple of the altered breast will also be changed so it is in better alignment with the other breast.
Combination Breast Surgeries
Each breast procedure is performed for a specific function, and some women may benefit from two or more different techniques during surgery. During a breast lift, the breasts may appear to be different sizes after tissues are removed. Augmentation can be used to correct this change. If the larger breast also sags, reduction and lift are the best options for addressing each concern.
Candidates for Breast Asymmetry Surgery
Women who may be eligible to undergo breast surgery are healthy individuals who are physically and have realistic expectations about the results which can be achieved with surgery.  It is also recommended that women undergo the procedure after they are done having children or have reached their ideal weight because certain results can be undone with major body changes like hormone surges and weight changes in the breasts.
Breast Asymmetry FAQs
What is the best way to improve mismatched breasts?

Different techniques are utilized during surgery to alter one or both breasts, including breast augmentation with implants or fat, breast reduction, or breast lift. These surgeries may be performed alone or in conjunction with another procedure to optimize the final result.

What can I expect during recovery for breast asymmetry surgery?

The majority of breast surgeries are performed on an outpatient basis. Generally, patients are fitted with a post-surgical bra that is worn for a few weeks. This compresses the chest to minimize swelling, and helps maintain the shape of the new breasts while the tissues heal in place. Patients will have pain medication to ensure comfort during healing, and the prescription is filled before the procedure. After a few days, patients are able to move around more easily, but should avoid strenuous activities for at least 3 weeks. The doctor can provide more specific instructions depending on which surgery was performed. Patients on occasion may have drains that require cleaning or she may benefit from special aftercare treatments to lessen the appearance of scars.

How many women experience uneven breasts?

A quarter to half of all women may notice that that their breasts do not align either in shape, size, or position on the chest. Minor irregularities may not require any intervention if a woman does not desire correction.

Are there non-surgical techniques that can change breast asymmetry?

There are procedures available that cause contraction of the dermis, and fat can be melted away or frozen, but the changes produced will be minimal and are not long-lasting. These options may be possibilities if a patient is seeking very minimal change, but often surgery is the best method for predictable, dramatic, and long-term results.
About Us
Drs. Waldman, Schantz, and Turner of their namesake Plastic Surgery Center and Skin Care in Lexington, KY specialize in aesthetic medicine. The clinic offers procedures of the face and body, as well as minimally invasive and non-surgical procedures to cater to each patient's needs. Each physician is board-certified, meeting the highest standards of the field of plastic surgery, and the medical staff are all trained to provide safe and effective treatments.
Interested individuals are encouraged to call 859-254-5665 to setup a breast asymmetry consultation and meet with one of our expert surgeons in Lexingon, KY.