Lip augmentation or enlargement is one of our most requested procedures. Common options for lip enhancement include the injection of filler material such as hyaluronic acid or even fat. Another option for lip enhancement is the sub-nasal lip lift or the vermillion advancement. Dr. Waldman is considered an expert for lip augmentation both surgical and injectable.
Am I a candidate for lip enhancement?
If you desire to have fuller or more defined lips.
Males and females are both candidates for this procedure.
What results can I expect from lip enhancement?
The intention of lip enhancement is to give you the fuller lips you desire. For some patients with very thin lips, the goal may be to have a more normal appearance and for other patients very thick lips are the goal. Some patients desire a defined edge to the lip or a return to their less aged lip is needed.
*Each patient is unique and individual results may vary.
What is a sub-nasal lip lift?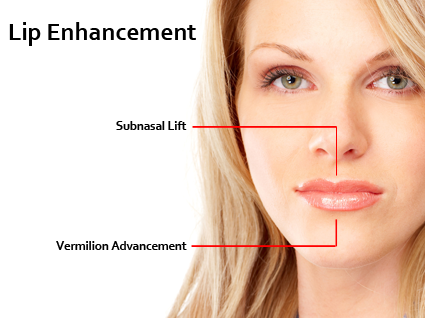 In this procedure, a nearly undetectable incision is made at the base of the nose. The lip is then lifted, restoring fullness and recreating a more youthful appearance. If enhancement of the lower lip is desired, injectable fillers or lip advancement can be performed.
Is my own Fat an Option?
Yes. In this procedure, fat is harvested through mini-liposuction, and then re-injected into the lips on a routine basis. Alternatively, a large quantity of fat can be injected in a single sitting. In addition to the implantation of some fat cells, new collagen and fibroblasts are stimulated. Over the year, about 40% will become permanent.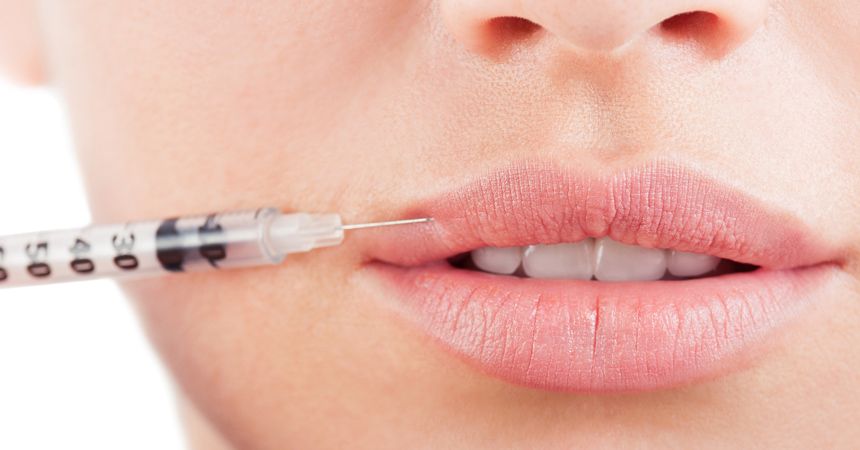 What injectable fillers are most commonly used?
Hyaluronic acid (Restylane, Juvederm) fillers are most commonly used. The duration of the material may vary from individual but most patients will return in 6-12 months.
Is there noticeable swelling?
With hyaluronic injections swelling is minimal and lasts only a day or two. The swelling from fat injections may last up to 2 weeks. There is minimal if any discomfort.
A couple of months ago, I realized that I needed to have lip surgery. Since this involved cutting out part of the area above my upper lip, I was extremely motivated to find the best plastic surgeon in the country. So, I began searching the internet for all the information I could possibly find and figure out where I needed to go to have it done. (When somebody is going to make incisions on your face, you REALLY need to make sure that they know what they are doing!) From the first moment I began researching plastic surgeons, I noticed that Dr. Waldman's achievements were amazing. I couldn't believe that someone with his global reputation actually lives right here in Kentucky. Whew! I'm so glad I didn't have to travel to Maryland! (If you've read anything about the lip lift procedure at all, then you know what I'm talking about.) Dr. Waldman is absolutely the best there is! He is very honest in giving the pros and cons of the procedure. He spends most of his consultation time teaching, rather than marketing his skills. In fact, he is EXTREMELY proactive when it comes to patient education. For this reason, I will never even consider going to anyone else. I want to know everything I possibly can about every option available. At the same time, his surgical abilities are unsurpassed. He is an expert in the latest procedures and advances in surgery. However, his zeal for learning is balanced by his many years of experience and the wisdom he has gained as a life-long learner and achiever in the field of plastic surgery. Along the same lines, he has the most wonderful staff, ever! From the first moment you walk in the door, you will realize you are in the right place. Paula, his primary assistant, is an angel! She knows just about everything, and will patiently answer every single question you might have. But, she doesn't sugar-coat anything, so you know you can count on her for complete honesty from a woman's perspective. In my experience, this type of honest and compassionate feedback is a priceless treasure! In the end, it all boils down to one thing. You have only one face, and you don't want to put the care of it in the wrong hands. I will always be thankful that I found Dr. Waldman!
Are permanent injectables available?
Silicone has been used as a permanent material but has been "banned" by the FDA. While some still do silicone injections the risk of complication is high and we do not advise this treatment. We really like Radiesse in the laugh lines but not in the lips. Science continues to advance and new fillers may be available in the next few years.
Is there much pain from the injections?
No. We use a dental nerve block and strong topical gels to make sure that our patients are comfortable.
Related Procedures:
BOTOX® Cosmetic | Chin & Neck | Filler Injections | CO2 Laser Skin Rejuvenation