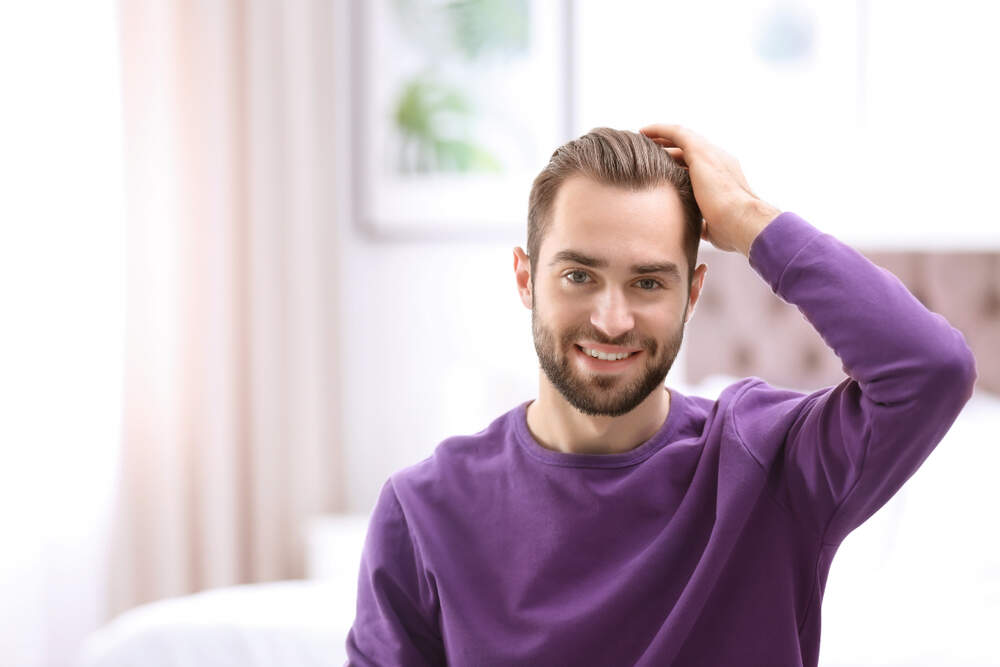 A high hairline can cause the upper face to look disproportionately large. Our plastic surgeons perform forehead reduction surgery in Lexington, KY, at Waldman, Schantz, Turner Plastic Surgery Center to permanently lower the hairline of men and women who wish to improve their appearance and establish better facial symmetry.
What is Forehead Reduction?
Forehead reduction, also known as hairline lowering, is a cosmetic surgery that reduces the size of the forehead by moving the hairline approximately one to two inches forward. Your plastic surgeon may combine hairline lowering surgery with a hair transplant to thicken the hairline and conceal the surgical scar. When the forehead is very high or the skin is too taut, the doctor may use expanders to stretch the forehead skin.
In specific cases, your plastic surgeon may recommend hair transplantation with follicular unit extraction (FUE) to lower the hairline, instead of forehead reduction surgery. Hair transplantation may not provide the same hair density as forehead reduction, but FUE transplants can restore hair loss, fill bald patches, and add hair follicles to reshape and lower the hairline.
Forehead Reduction in Male and Female Patients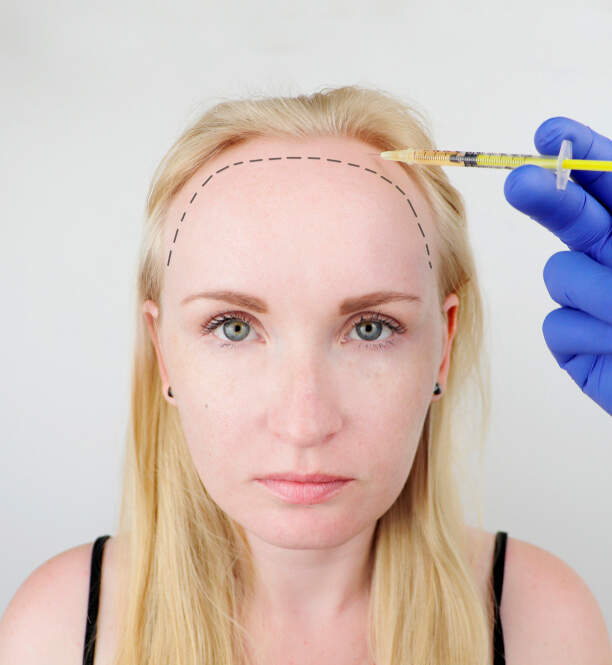 Men and women who struggle with high foreheads often choose to wear hats or bangs in an attempt to create facial balance, but these are only temporary solutions. Forehead reduction in male and female patients is very similar, but there are slight differences in aesthetics and surgical techniques.
A woman's hairline is commonly located five to six centimeters above the brows. Women with high hairlines or large foreheads may struggle with self-confidence and might have trouble finding a flattering hairstyle that hides their forehead. Men typically have longer foreheads than women, and because of this, women often feel that a high forehead appears masculine.
A man's forehead is generally six to eight centimeters above the eyebrows. A very high forehead mimics a receding hairline and may cause a man to feel self-conscious about his appearance. Men who are not experiencing male pattern baldness and do not have a reconstructed hairline may benefit from forehead reduction. Male patients must consider that the progressive nature of hair loss may require that they undergo additional procedures in the future to maintain their original surgical reduction results.
Hairline Lowering Benefits
Our hairline lowering procedure offers advantages to men and women who want to reposition their hairline closer to their eyebrows. Benefits may include:
Reduction in the size of the forehead by ¾ of an inch or more
Improved facial proportions
Minimal scarring due to a well-concealed incision
Short recovery with rapid results
Improved self-esteem and self-confidence
Natural-looking results
Forehead Reduction Candidates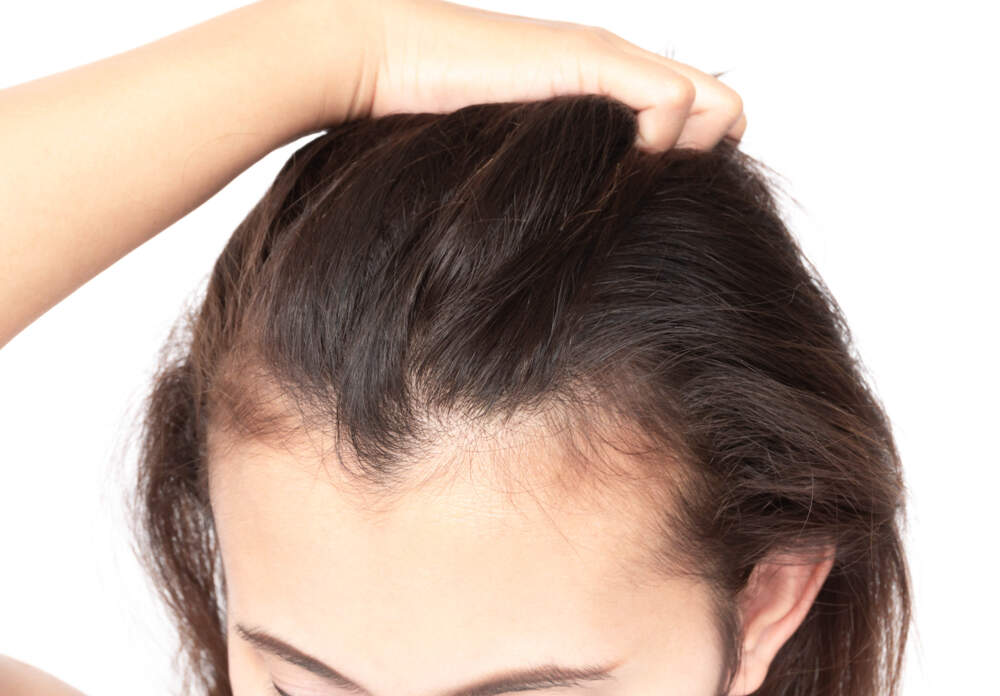 Our plastic surgeons may recommend forehead reduction to men and women who are dissatisfied with the size of their forehead and overall appearance. Individuals without a personal or family history of hair loss who have a high forehead, thick hair, and flexible forehead skin may be good candidates for this surgical procedure.
Most women with a high hairline can benefit from forehead reduction surgery. However, forehead reduction is not suitable for the majority of men. Our plastic surgeons may recommend hair transplant surgery instead of a forehead reduction to men with thin hair or age-related male pattern baldness.
Our plastic surgeons meet with each patient privately to determine if forehead reduction is the best treatment option. They may recommend alternative options for individuals with a personal or family history of progressive hair loss, as future hair loss could reveal the incision. Patients with a history of abnormal scarring or issues with wound healing may not qualify as candidates for forehead reduction.
Forehead Reduction Consultations in Lexington, KY
Our plastic surgeons evaluate patients who wish to lower their hairline during a forehead reduction consultation in Lexington, KY. During this private meeting, our plastic surgeons ask the patient questions about their concerns and goals, and they gather information about prior surgeries and the patient's medical history. The doctor then examines the patient's hairline and evaluates their forehead skin and scalp to access their candidacy.
Scalp laxity or stretchiness is essential for this procedure and tissue expansion may be needed to achieve the desired results. Your plastic surgeon may also recommend hair transplants to conceal scar tissue and to create an enhanced, natural-looking hairline. The doctor creates a customized treatment plan for each patient during the consultation.
Hairline Lowering Procedure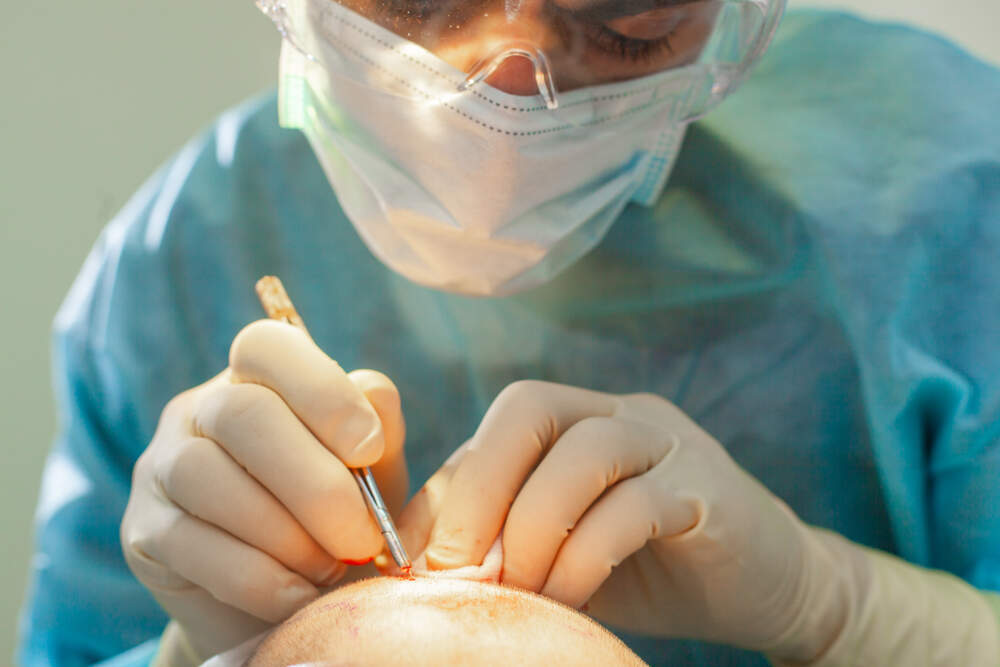 Hairline lowering surgery is performed under general anesthesia during a same-day procedure at Waldman, Schantz, Turner Plastic Surgery's state-of-the-art medical facility. The plastic surgeon creates a single incision called a trichophytic or transfollicular incision within the hairline and removes excess skin from the forehead and scalp. The doctor artfully moves the scalp forward to form a new, lower hairline.
The plastic surgeon may also contour the bony orbital structure of the forehead to create a pleasing shape during the procedure, using the same incision. They close the incision with angled stitches that permit hair growth in front and within the scar for natural-looking results. The procedure is typically completed within two to three hours.
Two-Stage Hairline Lowering
Individuals with an unusually high hairline or a tight scalp may require a two-stage procedure. During the first stage, your plastic surgeon inserts balloon-like expanders underneath the skin of the scalp. The expanders are inflated progressively and stretch the scalp over six to eight weeks. During the second stage of the operation, the doctor removes the expanders and lowers the hairline.
Hair Grafts with Forehead Reduction
The plastic surgeon may add healthy hair to the lowered hairline using hair restoration with follicular unit extraction (FUE). The doctor removes follicular units from the back of the head to reduce scarring. Hair grafts are then prepared by carefully separating individual hair follicles from the extracted follicular units. The plastic surgeon creates tiny holes in thin areas on the lowered hairline and inserts individual grafts one by one.
FUE Alternative Treatment
The doctor may also perform follicular unit extraction (FUE) to lower the hairline of candidates who have insufficient scalp laxity and are not candidates for tissue expansion. Repeated hair transplant procedures are typically performed over a period of 12 to 18 months to achieve the desired hair density. The hair transplant will create a lower hairline and can provide results that are similar to those produced with hairline lowering surgery.
Hairline Lowering Recovery
Our plastic surgeons provide each patient with comprehensive post-surgical instructions before forehead reduction that should be followed closely to encourage proper healing. While the healing process varies, the recovery typically takes two to three weeks.
Mild swelling and discomfort with numbness can be expected during the first few days after surgery. Prescription medication or Tylenol is recommended during this time. Most patients can wash their hair the day after surgery.
Heavy lifting and strenuous activities must be avoided for several weeks. Most patients return to light and moderate work responsibilities after their stitches are removed, which typically occurs one week after surgery.
Why Should I Choose Waldman, Schantz, Turner Plastic Surgery Center?
We have a talented team of plastic, cosmetic, and reconstructive surgeons at Waldman, Schantz, Turner Plastic Surgery and Skin Care. The practice's state-of-the-art medical facility is accredited by the American Association for Accreditation of Ambulatory Surgery Facilities (AAAASF) and complies with the maximum safety standards. The doctors at Waldman Plastic Surgery are highly-respected, board-certified plastic surgeons with defined specialties.
Frequently Asked Questions About Forehead Reduction
What risks are associated with forehead reduction?
The most common risk associated with hairline surgery is the formation of excess scar tissue. Patients should follow all post-surgical instructions to encourage proper healing of the wound and avoid intense activities like running for several weeks after the surgery. Numbness, loss of hair, itching, changes in sensation, infection, and other potential risks are discussed during the consultation. 
What results can be expected after hairline lowering surgery?
The majority of patients enjoy an adjusted hairline within several months that beautifully accentuates their features and renews their confidence. Patients can enjoy a variety of new hairstyles and typically no longer feel the need to conceal their forehead.
Will the scar be visible after forehead reduction surgery?
Hair growth will occur in front of and throughout the incision, which will eventually become hidden in the hair. The scar typically lightens and continues to improve with time. Your plastic surgeon may recommend a follow-up hair transplant procedure to address thin hair over the scar.
Can other plastic surgery procedures be completed along with a forehead reduction?
Our plastic surgeons customize each surgical plan to match the patient's aesthetic goals. Different surgical treatments may be combined with the hairline lowering procedure, including upper blepharoplasty or a brow lift.
When can I appear in public after forehead reduction?
Patients usually feel comfortable appearing in public one week after the surgery, once their stitches have been removed. However, you may appear presentable after just a few days because the stitches along the hairline can be covered.
When can I wear my hair pulled or combed back?
The incision becomes undetectable when the hair grows to conceal the scar, which typically takes three to six months.
Schedule Your Forehead Reduction Consultation
If you would like to lower your hairline or reduce the size of your forehead, call (859) 254-5665 or Contact Us online to request an appointment with one of our plastic surgeons at Waldman, Schantz, Turner Plastic Surgery and Skin Care in Lexington, KY.