Choosing breast enhancement or reconstruction is a deeply personal decision. Women have different reasons for undergoing cosmetic breast surgery, but all do so to look and feel better both in and out of clothing. Breast reconstruction is a good option for women who have experienced complications with a previous cosmetic surgery or have lost a portion or their entire breast. Some reconstruction patients want to emphasize their curves and fix the results of a previous breast augmentation, while others may have suffered an injury or had a medical condition that now affects the look of the breasts. It is traumatic for women to experience issues with their health, and for their body to feel foreign to them after these kinds of experiences. Fortunately, the board-certified plastic surgeons at Waldman, Schantz, and Turner Plastic Surgery Center and Skin Care in Lexington, KY can restore a natural-looking bust and help women regain their confidence with breast reconstruction surgery.
What is Breast Reconstruction?
Breast reconstruction is a surgical repair of the breasts, often utilizing different techniques to rebuild the structures and create a beautiful, natural look. The patient may need to provide tissue grafts, they may come from another human or non-human source, or the materials may be synthetic. Breast reconstruction must be performed as a surgery as there is no minimally-invasive or non-surgical procedure equivalent. The surgery is performed to improve a woman's aesthetics, and will generally not change the functionality of the breasts in regard to breastfeeding.
*Each patient is unique and individual results may vary.
Breast Reconstruction Techniques
Breast Implants/Tissue Expansion
One of the most common ways to improve the breasts is though the placement of implants. These silicone- or saline-filled devices serve as breast prostheses and can replicate the look and feel of breasts. Implants are customizable so even patients with limited options during reconstruction will still be able to choose the best implant size and shape for their preferred contouring.
Where there is limited skin on the chest, temporary expander implants may first be inserted below the skin to make room for the larger, permanent implants. The expander implants are injected with a saline solution over a period of weeks to months to gradually increase their size, expanding the skin over them. The benefit of having fillable temporary implants inserted is that patients can enjoy some shape to the breasts while awaiting a final surgery, and they will have an idea of how each size change appears on their frame.
Flap Reconstruction
Another way to compensate for limited tissue is to harvest skin, fat, muscle, and accompanying blood vessels from another area, like the side of the torso, abdomen, or the top of the buttocks. This material is removed from the site and relocated to the breasts. The incision site is sutured closed, preferably in a way that camouflages or minimizes scars, and the patient ends the procedure with newly restored breasts. This type of autologous reconstruction can be performed with or without breast implants. We do not offer flap reconstruction at our office. We are happy to guide you to a board-certified plastic surgeon who does.
Fat Grafting
If the patient has areas of excess fat, the doctor can perform liposuction to harvest fat which will then be transferred to the breasts. Patients may be able to choose the harvest site, which nicely contours the region as an added benefit. Due to an enormous interest in fat transfer of late, the science of the process has been improved immensely. The fat is purified before being injected and most large studies estimate a "take" of 60-70% of the fat injected. The primary benefit of fat transfer is the ability to sculpt the existing breast mound and improve subtle contour deformities. Fat transfer is performed in essentially all reconstruction operations.
Nipple Reconstruction
Some women opt to have only their breasts mounds restored, while other women seek the full transformation and also undergo nipple areola reconstruction. Nipples can be fashioned out of patient tissue, including that harvested from the thigh, labia minora of the vagina, or in the healthy breast. The tissue is constructed into a realistic nipple-like shape, and may require the use of synthetic materials so the new structure maintains its shape.
Nipple Tattooing
A popular option for women who undergo breast reconstruction is to have a tattoo artist or cosmetic permanent makeup artist tattoo nipples on their breasts. This is generally safe to undergo at the 3-month postoperative mark, and may be tattooed to look like a nipple and areola, or just the areola with a surrounding circular design in a realistic tissue color. Other women opt to have other decorative tattoos cover their breasts if they wish to conceal scarring and do not seek restoration of the nipples in a 1-D or 3-D tattoo.
Breast Reduction of Healthy Breast
Patients with a full, healthy breast may opt to have its size reduced to produce symmetry in the chest. The patient may have had a condition, disease, or suffered a trauma that only affected one breast. Rather than increasing the affected breast's size, its larger counterpart can be surgically altered to be smaller.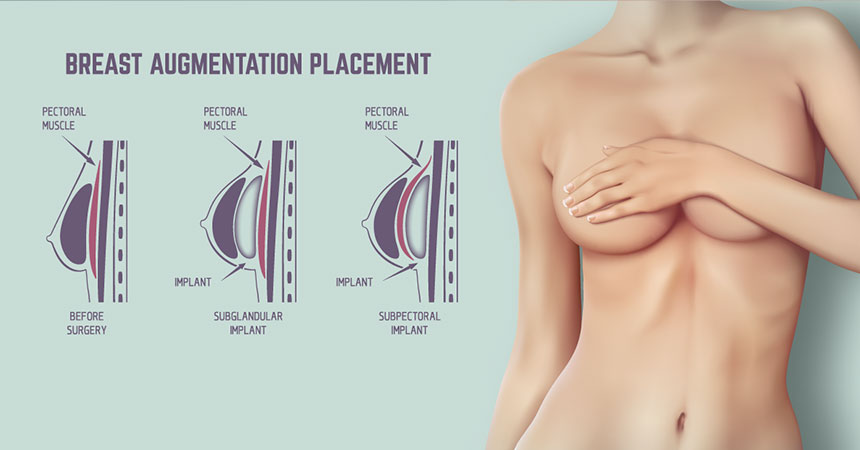 Mammograms Following Breast Reconstruction
When breast tissue is removed to prevent breast cancer or in an effort to cure it, patients may not have enough breast tissue to warrant future mammograms. During mastectomy, all of the breast tissue is surgically excised from the breast. During lumpectomy, some or most of the breast remains and patients will have to continue routine breast screenings for their health.
Candidates for Breast Reconstruction
Women who are best suited for breast reconstruction have partial loss or no breast tissue, that is unable to be repaired with simpler surgical techniques. Reconstruction requires the doctor to rebuild the breast tissue through natural and synthetic means, and is performed for primarily for cosmetic reasons. The patient must be in good health and able to endure the prescribed treatment plan. Breast reconstruction will result in minimal to moderate scarring, and the breasts will not likely appear as they once did. Patients should be aware of the limitations of what breast reconstruction can accomplish.
Dr. Schantz and his staff have been amazing ever since my initial consultation. Dr. Scantz knew exactly what I needed and wanted and delivered amazing results. For the first time in my life, I am thrilled with my breasts and body. I highly recommend Dr. Schantz for cosmetic breast surgery, and I believe he is truly the best in the area!
Breast Reconstruction FAQs
What is the difference in surgery performed after mastectomy versus lumpectomy?
Mastectomy is the total removal of breast tissue. The plastic surgeon may begin the reconstruction by fitting the patient with temporary implants that can be filled with saline solution to increase their size. These expanders allow larger implants to be placed a few months later. Lumpectomy removes some breast tissue, and generally the patient is also treated with radiation. The breasts can be reconstructed with augmentation, various flap techniques, or both implants and autologous tissue transfer.
Will I notice the addition of breast implants?
Patients with little or no remaining breasts may feel a difference in the texture of augmented breasts. This is because the breast tissue is not available to cover the top of the implant. In some cases, the doctor may be able to provide additional cushioning with flap construction or with the patient's own fat. In other cases, breast implants feel as natural as real breast tissue. The breasts can also be enhanced with the use of fat only, which may be an option for the patient.
How is nipple reconstruction performed?
The doctor will borrow a small flap of skin from the surrounding breast, then sometimes from the patient's groin area (inner thigh and labia are popular harvest sites) to create the areola. Generally, the areola will be tattooed by the surgeon in the operative setting or by a specialty tattoo artist of the patient's choice. Nipples and areolas can both be permanently inked on the breast, though they will only be one-dimensional.
Will I have noticeable scars following breast reconstruction?
All patients will have scarring on the breasts, especially if they had a previous breast procedure performed. The doctor will close the surgical incisions with care and in the least noticeable locations to disguise scars, and may provide special topical treatments to use during the course of healing. There are also a number of scar revision procedures including surgery, laser therapy, or microdermabrasion.
About Us
Drs. Waldman, Schantz, and Turner of their namesake practice Plastic Surgery Center and Skin Care in Lexington, KY are experts in aesthetic medicine. Their clinic offers a wide range of procedures for the face and body, and minimally invasive and non-surgical procedures for less extensive procedures. The three featured physicians are board-certified and experts in the latest techniques used for cosmetic improvements. The practice's medical staff are passionate about bedside manner and deliver excellent patient care. Call 859-254-5665 to ask our staff questions or to schedule a surgical breast reconstruction consultation with one of the doctors in Lexington.