The abdomen is a focal point of the body. It affects the curves and contours of the rest of a person's silhouette. It is also common "problem area" where stubborn fat tends to accumulate. In women, a certain waist-to-hip ratio is considered desirable, while men covet a fit and muscular midsection. Unfortunately, it is difficult to camouflage imperfections in this area and both men and women tend to feel self-conscious when the contours of the stomach are not tight and toned. From wearing oversize clothing to compression garments, the stomach can only be camouflaged if people are willing to sacrifice their comfort or style. These garment tricks may work most of the time but will not change the look of the abdomen during intimacy, at the beach or the pool. When diet and exercise are unable to achieve your desired results, plastic surgery may be the best option. The tummy tuck is a popular and effective procedure performed by the plastic surgeons of Waldman, Schantz, and Turner Plastic Surgery Center and Skin Care in Lexington, KY, to instantly create a trimmer midsection.
*Each patient is unique and individual results may vary.
What is a Tummy Tuck?
Tummy tuck surgery, also known as abdominoplasty, is a surgical procedure that helps patients achieve a slim and tight abdomen by tightening the underlying abdominal muscles and removing extra skin and fat in the area. Although weight loss can reduce the amount of unwanted fat in the tummy area, certain factors such as weak abdominal muscles, pregnancy, or excess skin resulting from weight loss can result in bulk that can only be corrected through surgery.
Because a number of different tissues and structures are involved in the abdominal aesthetics, liposuction alone is not always the best option for treating a belly "pooch".
A tummy tuck is performed to restore and rejuvenate the abdominal wall, which refers to the area from below the chest to the pubic region. Pregnancy and weight gain can stretch these tissues beyond their maximum capacity, requiring surgical intervention to restore them. Tummy tuck surgery is suggested for women who do not plan on having any more children and both men and women who are committed to maintaining their weight. Any significant weight gain following surgery can cause the skin to stretch and reverse the benefits of the procedure.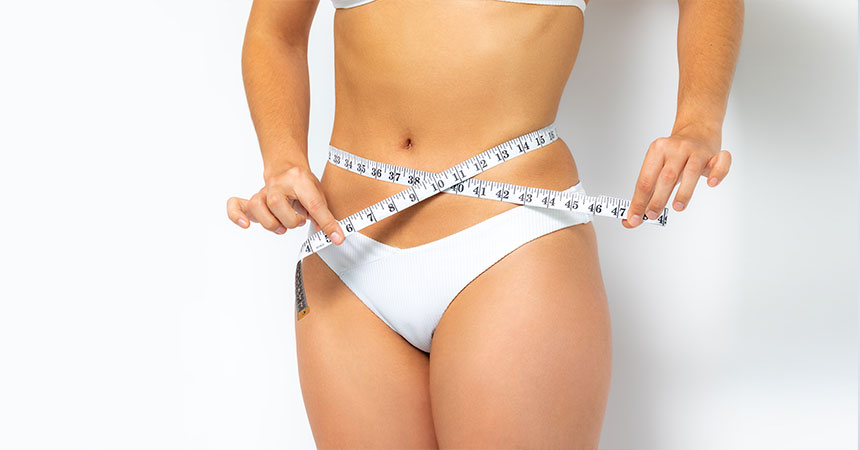 How is a Tummy Tuck Performed?
There are three main procedures a surgeon can use to help patients to achieve a more sculpted abdomen: liposuction, mini tummy tuck, and full tummy tuck or abdominoplasty.
Liposuction

While not technically a form of tummy tuck surgery, liposuction is often a good option for patients who have unwanted fat in the abdominal area without loose skin and muscles. Often referred to as liposculpture, liposuction is a cosmetic surgery performed to reduce the amount of fat in a specific area to contour and slim the body. Liposuction is only appropriate for patients who have sufficient skin elasticity to allow the skin to retract after surgery. Stretch marks are a sign of very poor elasticity and most patients with stretch marks are not candidates for liposuction alone. The surgery is usually performed under sedation anesthesia in our surgery center.
Once the patient is comfortably asleep, the doctor will create small incisions to gain access to the unwanted fat. A cannula, or hollow metal tube, is inserted through the skin and fat is vacuumed through a suctioning machine. The doctor will perform tumescent liposuction, which relies on a solution that is injected into the fat, causing it to firm up and be suctioned away more readily and uniformly with less trauma to the tissues.
Liposuction is not performed as a weight loss procedure—it is intended only to resolve stubborn fat and improve the contours of the body.
Mini Tummy Tuck
Mini tummy tuck surgery is best for patients who have loose skin and excess fat isolated to beneath the navel. This means a very limited number of patients are a good candidate for the procedure. This procedure does not affect the belly button and will not address cosmetic issues in the upper abdomen. Patients who need the entire abdomen improved should consider a full abdominoplasty instead.
During a mini tummy tuck, the doctor will remove unwanted fat and trim away excess skin. This will result in a shorter linear scar that can be hidden by underwear or bathing suit bottoms. The surgery creates a smoother low-midsection with natural-looking contours. Patients will notice their clothing fits better and they no longer have a pronounced pooch above the pubic region.
Full Abdominoplasty
Those with more pronounced bulk and larger amounts of fat, stretched and separated muscles, and excess loose skin are candidates for a full abdominoplasty.

We perform this operation either under sedation anesthesia in the surgery center or under general anesthesia with a partner-hospital, the surgeon removes unwanted fat using liposuction or excision techniques, tightens the abdominal muscles and tissues, and pulls the remaining skin taut for a smooth and toned appearance. The setting for the procedure will be determined during your consultation and is dependent on many factors. Patients desiring multiple procedures, patients with any health problems or elevated BMI (body mass index) will likely have their operation performed in the hospital setting.
This version of the tummy tuck is best suited for women who have had multiple pregnancies, formerly obese people who have lost a significant amount of weight, and patients with apple-shaped bodies who carry stubborn weight in their midsection. The scar will be longer than the scar from a mini tummy tuck, usually extending from hip bone to hip bone, though it is still camouflaged within the underwear and bathing suit bottom.
Full abdominoplasty addresses the entire abdomen on both sides of the navel, and can significantly improve the look of stretch marks by removing stretched out skin.
I am very happy with my results! Dr. Schantz has made my dreams come true. I was so down on myself about my body after three children and putting myself on the back burner. I started teaching Zumba a year ago and still couldn't get rid of the extra abdominal fat. Everything I tried wouldn't work. I had been wanting to have abdominoplasty and Breast augmentation for sometime. I am so glad I made the decision to have it done. my clothes fit great and I've thrown all those spanks/kamoras/girdles out. I recommend anyone wanting to have this procedure done to go for it. It Was the best decision I've ever made. Dr Schantz has also done the abdominoplasty on three other friends of mine and they look awesome.
The Consultation
Patients who would like to improve the look of their midsection can schedule a doctor-patient consultation with one of our talented surgeons in Lexington. During the appointment, the doctor will thoroughly review the patient's medical history and assess the look and feel of the abdomen. A discussion of the patient's goals will take place, and the patient is welcome to ask any questions they may have about the procedure. The doctor can then recommend the best procedure to achieve the patient's individual aesthetic ideals.
Complementary Procedures
Patients who feel dissatisfied with their shape often attribute the problem to a single feature, but other areas of the body contribute to a person's silhouette and may be contributing to the issue.
Women with small breasts may feel that their body lacks natural balance and curvature. Breast augmentation adds volume to the chest which can create a slimming effect in the waist.
Similarly, pectoral implants enlarge a male's chest, balancing a wider midsection.
Brazilian butt lift, a procedure in which purified fat is injected into the buttocks to improve their shape and size, can also help to contour the waist.
Abdominoplasty addresses an extended midsection, but liposuction of the flanks (love handles) helps to slim the sides of the waist as well. Some doctors perform these procedures together in extended abdominoplasty.
Each patient's needs are unique and combination procedures can be discussed during the consultation.
Tummy Tuck FAQs
Am I a candidate for a tummy tuck?
The ideal tummy tuck candidate is at or near his or her ideal weight and has attempted to lose stubborn fat through diet and exercise. There are often changes to the abdomen that occur as the result of changes to the body. Generally, these tissues of the midsection have been stretched beyond natural repair, requiring surgical intervention of some form.
What does full abdominoplasty consist of?
A full abdominoplasty improves the entire abdominal wall, both above and below the navel. Patients who undergo this form of the procedure have excess localized fat, sagging skin in the abdominal region, and weakened or separated abdominal muscles due to pregnancy, weight loss, or aging. All of these issues are addressed during a full abdominoplasty.
Where will the abdominoplasty be performed?
The doctor may require the patient to remain overnight in the hospital, with discharge the following day. This allows medical staff to observe the patient and respond quickly if any post-surgery complications arise. The procedures are normally performed at the University of Kentucky Good Samaritan Hospital or St Joseph East Hospital Womens Center.  Patients who opt to undergo liposuction, mini-tummy tuck, or full abdominoplasty  can be treated in the practice's accredited surgical facility.
What is mini tummy tuck?
A mini tummy tuck is a less extensive abdominoplasty that addresses excess fat and loose skin below the navel, in the lower part of the abdomen only. Patients with less extensive excess skin and muscle laxity may be candidates for mini tummy tuck. Mini tummy tuck surgery involves a smaller incision, fewer sutures and tightens the lower abdominal wall only.
How long is the recovery period?
Abdominoplasty can be one of the more uncomfortable cosmetic surgical procedures performed. Light activity is comfortable in 10-20 days post-op and sports or more rigorous physical activity can be resumed in about 6 weeks. Patients should plan to take at least 2 weeks off work, though more or less time off may be necessary depending on the patient's occupation.
Are there risks associated with abdominoplasty?
All surgery involves some degree of risk and possible complications, and these scenarios are thoroughly discussed during the consultation. The doctor prioritizes safety and will take every precaution to perform the safest procedure possible.
What is an extended abdominoplasty?
Tummy tuck surgery addresses the projection of the stomach, and an extended tummy tuck also treats the sides of the body, reducing bulk more uniformly. This may require extended abdominoplasty incisions or smaller cuts for liposuction.
Waldman, Schantz, and Turner Plastic Surgery Center and Skin Care in Lexington, KY
Board-certified plastic surgeons Dr. Waldman, Dr. Schantz, and Dr. Turner are experts in cosmetic medicine. Their Lexington, Kentucky clinic conveniently provides patients with non-surgical procedures and surgery of the face and body at a single location. Prospective patients should call 859-254-5665 to schedule a tummy tuck consultation and meet with one of our renowned surgeons.