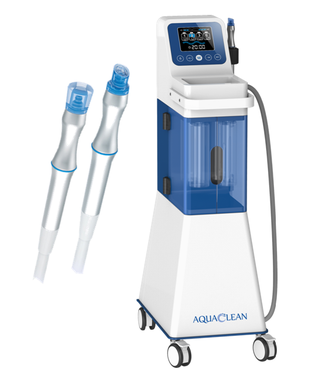 AquaClean Facial: Aquaclean is a liquid facial system that works in 3 steps to dissolve impurities and other causes of skin problems by supplying nourishing properties to the skin, resulting in reduced pore size and healthier skin.
Step 1- Cleanse: Non-irritating cleansing using penetrating lactic acid, to dissolve bacteria, sebum, and cosmetic residue in the pores
Step 2- Lift and Smooth: The optimized vacuum pressure is safe and effective for thin and sensitive skin to thick and dull skin. The T-zone intensive care applies salicylic acid, and an oil controlling solution to cleanse pores from sebum and blackheads.
Sept 3- Moisturize and Plump: Vitamin B supplements and anti-oxidants moisturize and provide nourishment.
Just had a simple procedure done here this week. Got a new cosmetic set from the skincare office that seems to be reducing some redness on my face! I plan to have a surgery done in the future. Pricing is very affordable as I have been to one other practice outside of the state that had higher rates. Would definitely recommend! (review from Google+)
Related Procedures:
BOTOX® Cosmetic | Facelift | Lip Procedures