A rhinoplasty or "nose job" is a common procedure that is popular with patients all over the world. In most cases, patients who choose an experienced plastic surgeon to perform their procedure can look forward to excellent results. However, some patients do experience problems or choose an inexperienced surgeon, which can lead to less than desired issues and results. If you are disappointed with your nose job, know that a revision rhinoplasty can typically correct some of the problems from your first surgery and provide you with improvement for the first time. At Waldman Schantz and Turner Plastic Surgery Center, Dr. Waldman has helped countless patients who have suffered a bad nose job restore their confidence through revision rhinoplasty procedures.
*Each patient is unique and individual results may vary.
Most Common Reasons for Poor Rhinoplasty Results
There are a variety of reasons patients visit Dr. Waldman at Waldman Schantz and Turner Plastic Surgery Center for a revision rhinoplasty. Some patients are simply dissatisfied with the way their nose looks after their rhinoplasty. Their new nose may feature a change that they believe is either too subtle or too extreme. Other patients face problems such as:
Perforated Septum or Other Breathing Issues: A perforated septum is defined as a hole or opening in the septum, which makes a wheezing sound when an individual breathes. Surgical manipulation of the nose can lead to poor breathing in multiple ways and may need to be corrected.
Asymmetry: Asymmetry arises when the nose healed poorly and was not positioned equally on both sides of the face. Asymmetrical noses may look pinched or crooked.
Cosmetic Defects: There is a wide range of defects that can occur after rhinoplasty, including a drooping tip, pinched or twisted tip, or an open roof deformity.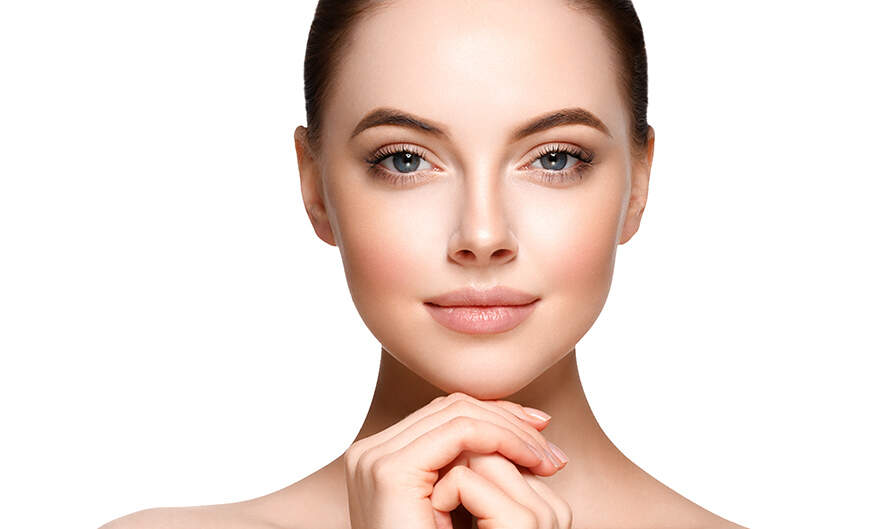 Good Candidates for Revision Rhinoplasty
A healthy individual who was not satisfied with the results of their previous rhinoplasty for aesthetic or medical reasons is a good candidate for a rhinoplasty. Their revision rhinoplasty should be timed at least a year after their previous procedure.
Most patients that come to our office for a revision rhinoplasty are self-conscious about the new appearance of their nose. The good news is our surgeons are able to fix some of the issues so that they can feel better about their nose and become a happier, more confident version of themselves.
What to Expect During a Revision Rhinoplasty Consultation
A consultation is a vital step in the revision rhinoplasty process. During a consultation, a patient will meet with one of our expert surgeons to discuss their previous procedure and plan for their rhinoplasty revision.
To deliver the ideal revision rhinoplasty results, the patient will need to provide our surgeons with detailed information about their first rhinoplasty. Our doctors need to understand what went wrong and find out whether there were any issues or complications. If possible, a patient should bring paperwork related to their initial rhinoplasty.
Once our surgeon has all of the information they need about a patient's first rhinoplasty, he will make suggestions on how to improve their nose job and design a revision plan that can help the patient achieve improvement in their appearance and function.
Preparing for Revision Rhinoplasty
In a pre-operative planning session, our surgeon and nurses will provide patients with information on how they can best prepare for their revision rhinoplasty. They will need to avoid certain medications and supplements and quit smoking at least six weeks before their scheduled procedure. Staying hydrated will be important as well.
The Revision Rhinoplasty Procedure
The way a revision rhinoplasty is performed is based on the current condition of the nose, the outcome of their first rhinoplasty, and their unique goals. The open approach is performed through a small incision in the columella between the nostrils, while a closed approach is done through incisions made inside the nose.
A closed surgical technique is usually used if a patient requires a small shaping and contouring. However, if a patient is in need of an extensive repair or structural change, an open surgical technique will likely be used. Sometimes, our surgeons may remove cartilage from the septum or ear or to improve nose support. This is usually the case if an excessive amount of cartilage was removed during the first rhinoplasty.
Recovering From a Revision Rhinoplasty
Since patients have already undergone a rhinoplasty, they are usually familiar with the recovery process. Our surgeon will still provide them with detailed recovery instructions and be available to answer questions or address concerns during the recovery process. It is important that patients adhere to surgeon instructions very carefully in order to prevent further complications.
Patients will need to avoid vigorous activities, take baths instead of showers while bandages are on the nose, avoid extreme facial expressions, apply sunscreen on the nose before going outside, and refrain from blowing their nose. Swelling may persist for up to a year or more.
Frequently Asked Questions About Revision Rhinoplasty
How long do I have to wait after my first nose job before undergoing a revision?
We encourage patients to wait at least one year after their first rhinoplasty prior to seeking a revision. It can take six months or more for the nose to completely heal and adjust to its new position.
Why is it important for a nose to heal completely before another rhinoplasty is performed?
The nose is comprised of bone and cartilage, which can take a long time to heal once they have been reconstructed or changed. If a surgeon attempts to correct a nose job before the nose has completely healed and the scar tissue has softened, serious damage may result or the nose may become distorted. It may be difficult to be patient and wait to correct a nose job but doing so is crucial.
Is a revision rhinoplasty a painful procedure?
Compared to a primary rhinoplasty, revision rhinoplasty usually involves less pain and bruising. Any pain and discomfort you may experience during a revision rhinoplasty can be alleviated with prescription pain medication.  If an auricular graft or rib graft is needed then there can be some discomfort in this area.
When can I return to work after a revision rhinoplasty?
Most patients are able to return to school or work in as little as 7-10 days after their revision rhinoplasty.
How long does revision rhinoplasty take?
The extent of the problems with the first rhinoplasty will determine how long the procedure takes. In most cases, it takes anywhere from 30 minutes to six hours.
Why do some nose jobs lead to poor results?
There are a number of reasons a nose job may lead to poor results. Some of the most common reasons include lack of precision when placing incisions, damage to the nasal tip cartilage, and too much extraction of cartilage and bone from the bridge of the nose.
What are the risks of revision rhinoplasty?
Like primary rhinoplasty, revision rhinoplasty comes with risks such as prolonged swelling, excessive scarring, the bursting of tiny blood vessels, anesthesia complications, and breathing or cosmetic problems. This is why it is so important to choose an experienced revision specialist to perform the procedure. Remember with revision Rhinoplasty the goal is improvement and not perfection.
Can revision rhinoplasty correct a nose that's too small?
If patient has a nose that appears too small because it has been over-operated, our surgeon can improve it. Noses that are too long, too short, too narrow, and too wide can be corrected as well.
Is it normal to be scared or nervous about revision rhinoplasty?
It is perfectly normal for patients who have had a poor experience with their primary rhinoplasty to feel scared or nervous about revision rhinoplasty. That's why it's essential to select a reputable surgical center you can trust. Experience in Rhinoplasty should be the most important determining factor.
Should a revision rhinoplasty be completed by the same surgeon who performed the first one?
It depends on the nature of the issue. Sometimes, it is appropriate for patients to seek correction with the original surgeon. In other cases, it makes more sense to choose a revision specialist with more experience. Patients who are unhappy with their primary rhinoplasty should conduct extensive research and only trust a surgeon who specializes in revisions and can get the job done correctly the second time.
Why is a revision rhinoplasty considered to be one of the most difficult cosmetic surgeries?
Patients who have already had a nose job may have a structure change and new scar tissue that can make it difficult for a surgeon to reshape their nose exactly the way they'd like. Sometimes, patients will have to be a bit flexible in their goals to ensure they are pleased with the results of their revised nose job. Primary Rhinoplasty is much easier and predictable when done by experienced Rhinoplasty surgeon.
Why Choose Waldman Schantz and Turner Plastic Surgery Center
Waldman Schantz and Turner Plastic Surgery Center understands how frustrating it can be to undergo a surgical procedure and be disappointed with the results. That's why, we're committed to correcting any aesthetic and/or breathing issues caused by a rhinoplasty and helping patients feel more confident about their nose. We take the time to understand what went wrong with the initial procedure so we can design a custom revision plan that helps patients meet their goals. If we do not feel as if we can improve the previous result then we are honest and straight forward in letting you know.
Schedule a Rhinoplasty Revision Consultation
By contacting Waldman Schantz and Turner Plastic Surgery Center, you'll take the first step to correcting your nose and increasing your confidence. We encourage you to call our Lexington facility today at 1-859-254-5665 to schedule your revision rhinoplasty consultation today.