Genetics, aging, and hormones can all influence how our hair behaves: whether or not it grows, where it grows, and when it starts to fall out. When hair grows where it shouldn't or stops growing when we want it to, it can be frustrating or embarrassing and cause self-consciousness.
Fortunately, there are effective treatment options available for either cosmetic concern at Waldman Plastic Surgery in Lexington, KY. Patients experiencing male pattern baldness or thinning hair often find success with surgical hair replacement. Individuals with unwanted hair can achieve excellent results with laser hair removal.
At Waldman Plastic Surgery, our board-certified plastic surgeons have many years of experience in performing hair replacement surgery and laser hair removal. Our team is known throughout Lexington, KY for providing world-class surgical care and impressive results.
What is Hair Replacement?
A full head of hair has long been accepted as a mark of attractiveness, virility, and youth. Hair replacement, also commonly known as hair restoration, hair transplant, or hair therapy, is a surgical procedure that involves taking the patient's natural hair from areas where it is plentiful and using it to fill in areas with thinning hair or no hair at all.
While hair restoration has been around for almost 70 years, it has only recently become widely available. Today, more men and women in Lexington, KY concerned with hair loss are seeing the procedure as a viable treatment option.
Who is a Candidate for Hair Restoration?
Ideal candidates for hair replacement include men who have lost some of their hair due to male pattern baldness and women who are suffering from thinning hair. Men and women who have lost hair due to a burn or from a cosmetic procedure like a facelift may also be good candidates for the procedure.
Patients looking to reverse hair loss with a hair transplant should be in generally good health and must have realistic expectations for what hair replacement can do for them.
The Hair Restoration Consultation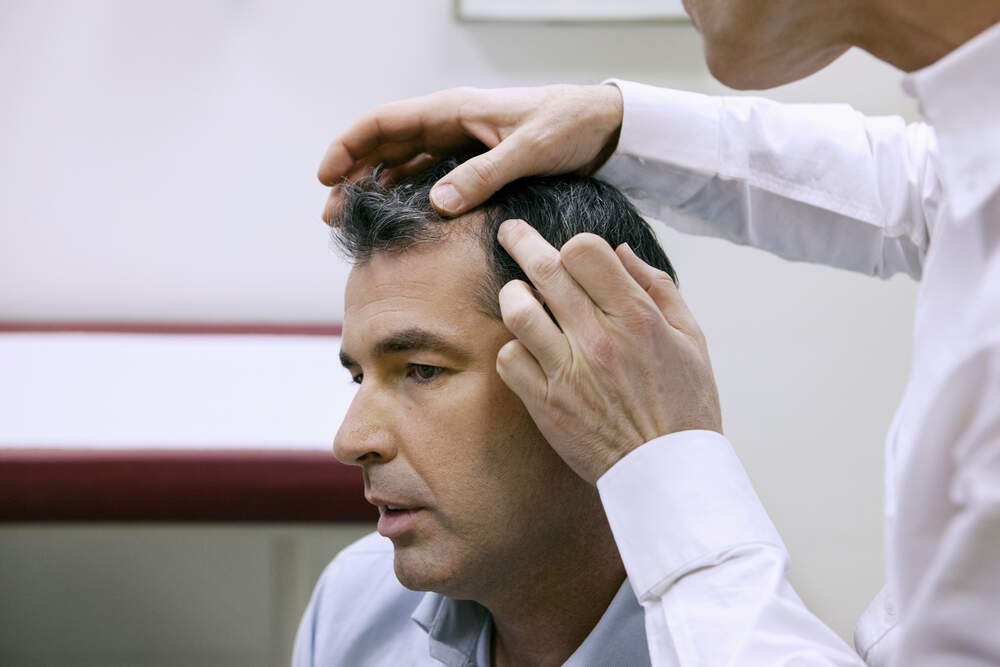 Patients with high blood pressure, problems with blood clotting, or a predisposition for scarring should share these conditions during the consultation. It's important to come prepared and to share as many details with the surgeon as possible. Certain medical conditions can cause complications, so a detailed medical history is important for safety reasons. The surgeon may recommend other treatment options depending on what is discussed during this initial meeting.
As with all surgeries, a consultation is required before scheduling hair replacement surgery in Lexington, KY. This meeting will include a discussion of your candidacy and honest dialogue concerning your goals and expectations for surgery. The surgeon will evaluate your scalp, ask about any prior transplant surgeries, and go over your medical history and lifestyle.
Once your candidacy has been assessed, the surgeon will create a recommended treatment plan, which may or may not include surgery. They will explain the type of anesthesia to be used and go over all the details of the procedure including where the grafts will be taken from. They will also discuss how long the surgery will take and if multiple treatment sessions may be needed.
The Hair Transplant Procedure
Hair replacement surgery is performed on an outpatient basis at Waldman Plastic Surgery, a state-of-the-art medical facility in Lexington, KY. The technique used at Waldman Plastic Surgery for hair replacement is known as follicular unit extraction. Using follicular unit extraction (FUE), the surgeon removes small clusters of individual hair follicles, rather than removing a strip of tissue containing the follicles. This reduces scarring and allows patients to wear short hairstyles.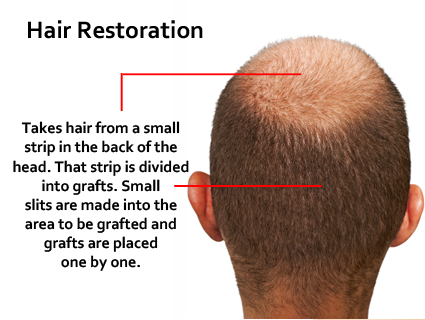 Grafts are prepared from the donor sites by carefully separating the follicular units. The area where the grafts will be placed is cleaned and numbed. The surgeon then creates tiny holes and inserts each graft one by one. Depending on how much hair is being transplanted, the entire procedure can take anywhere from four to eight hours.
What to Expect
After undergoing hair transplant surgery in Lexington, KY, it's normal for the scalp to feel tender. Pain medication will be prescribed and the surgeon will place a bandage on the scalp, which must be left on for at least one or two days.
In addition to pain medication, antibiotics may be prescribed. Patients can typically return to work two to five days after the procedure. It is important to follow all post-operative instructions carefully.
After a couple of weeks, the transplanted hair will fall out. This is normal. It will start to grow back within two to three months. The surgeon will sometimes recommend Minoxidil to improve the results of hair growth after surgery.
What is Laser Hair Removal?
Laser hair removal is a non-invasive procedure that uses laser light to remove unwanted hair from various areas of the body. The light is absorbed by the hair's pigment, destroying the hair follicles and preventing future hair growth.
Some lasers are more effective than others at inhibiting hair growth. Multiple treatments are needed for full results and maintenance treatments may be required from time to time. The best candidates for laser hair removal tend to be people with light skin and dark hair, as the laser can more precisely target the hair pigment.
Waldman Plastic Surgery uses the EpiLaze laser, which combines a variety of light sources including the long-pulsed Yag laser, an 810nm diode laser, and Alexandrite laser technologies. The EpiLaze is the only system of its kind which includes all three of the "Gold Standard" hair removal wavelengths.
The Laser Hair Removal Consultation
A consultation before your first laser hair removal session is an important part of the process to ensure the best results.
During your initial consultation at our office in Lexington, KY, a laser hair removal expert will review your medical history, perform a skin assessment, go over your expectations, and discuss the risks and benefits of laser hair removal. The laser expert will create a custom treatment plan for you and go over the costs and number of sessions you are likely to need.
Who is a Candidate for Laser Hair Removal?
The best candidates for laser hair removal in Lexington tend to be those with light skin and dark hair. The laser can focus on targeting the hair's pigment without targeting the melanin in the skin. However, newer technology and the Yag laser can make even individuals with dark skin prime candidates. The Yag laser has selective targeting, allowing it to bypass the melanin in the skin and target only the hair follicle.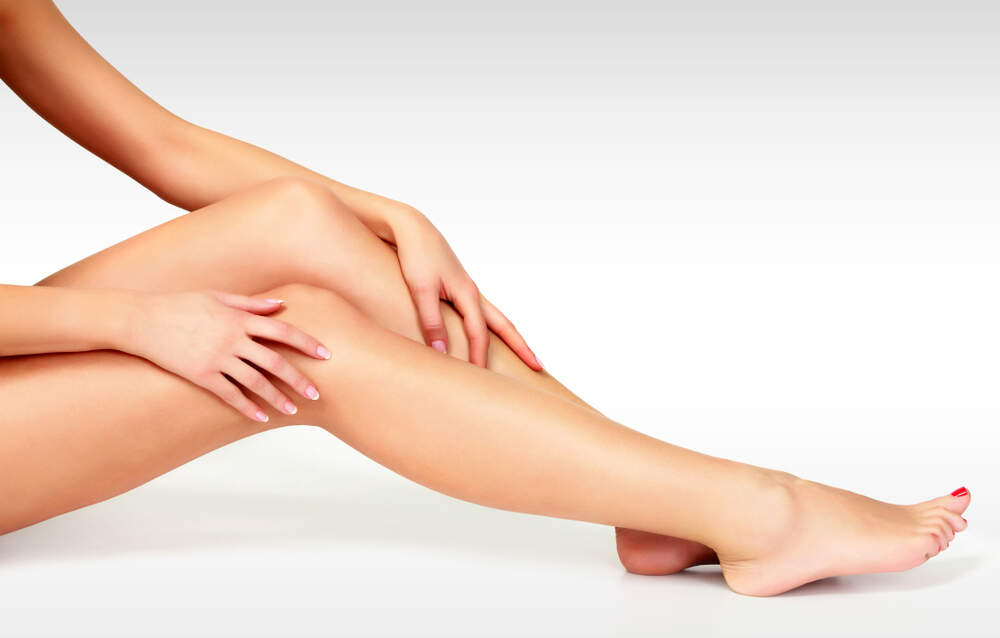 Waldman Plastic Surgery uses the latest technology in laser hair removal which includes the top three "Gold Standard" hair removal wavelengths: Yag laser (1064 nm laser), a diode laser (810 nm), and Alexandrite laser (755 nm). This combination of wavelengths allows individuals of almost any skin tone to undergo treatment without the risk of burning.
How to Prepare for Laser Hair Removal
Individuals in Lexington, KY who are interested in laser hair removal should ideally choose a board-certified surgeon with years of experience in successfully performing this treatment. Plan to have an initial consultation with the surgeon or dermatologist before your first treatment session.
The surgeon will provide preparation instructions that you should follow closely. They will advise you to avoid sun exposure for four to six weeks prior to treatment. If it is part of your routine, you should also stop skin lightening (or darkening) creams well in advance of treatment. Most methods of hair removal, including waxing, plucking, or depilatory creams, should be stopped about a month before laser hair removal so as not to disturb the hair follicles.
While other methods of hair removal can compromise the results of laser treatment, the surgeon will recommend that you shave the day before each session. Shaving removes the hair from the skin's surface while leaving the hair shaft intact. This eliminates any skin damage that could occur as a result of hair being burned during laser hair removal.
The Laser Hair Removal Procedure
During a laser hair removal treatment, you'll wear protective eyewear for safety. The surgeon will apply an anesthetic gel to minimize any discomfort. Once the gel is in place, the doctor will hold the laser device over the skin, targeting hair in the treatment area with the light source.
Upon activating the laser, the heat damages the hair follicle. This may feel like a tiny prick or rubber band snap to the skin. Each treatment typically takes anywhere from a few minutes for a small area such as the upper lip to a half-hour for a large area like the back or legs.
What to Expect After Laser Hair Removal Treatments
Immediately after laser hair removal, a small amount of redness and swelling is normal for a few hours. If the skin reacts, the surgeon might recommend using an ice pack or applying a steroid cream to calm any redness. Following treatment, sun exposure should be avoided for at least three to six weeks, or as advised by your surgeon. Your skin may be more sensitive than normal and sunscreen will be even more critical during this time.
Over the course of the days and weeks following a hair removal session, the unwanted hair will fall out gradually. However, more than one treatment is needed (typically between four to eight sessions) to experience full results. This is because hair grows in a cycle and the laser works best when the follicles are in new growth.
After the recommended treatments are complete, patients can typically expect about 80% permanent hair loss. However, in some cases, maintenance touch-ups may be recommended for long term results.
FAQs about Hair Replacement
What is the Pico laser good for?
Pico lasers are extremely effective at removing unwanted pigment from the skin, such as melasma or sunspots. These powerful lasers are recommended for patients looking for a quick way to rejuvenate the skin with little to no downtime. The Pico laser is also the most effective method of tattoo removal available to date. The surgeons at Waldman Plastic Surgery have successfully treated many patients using Pico laser technology. To find out if you are a good candidate, contact our office to schedule a consultation.
Are there any risks associated with hair transplant surgery?
Surgical hair replacement is a safe procedure when performed by a reputable, board-certified plastic surgeon with experience in performing hair transplants. However, all surgeries carry some risks. Some possible complications include infection, scarring, an unnatural patchy look, and grafts that do not "take" well. The surgeon will discuss all possible risks during your consultation so that you can make the best decision for your situation.
What are the risks involved with laser hair removal?
When performed by a board-certified surgeon or dermatologist who has experience in the procedure, laser hair removal is considered to be very safe. Possible side effects of laser hair removal include skin irritation and pigment changes. It is important to avoid sun exposure after treatment to keep these risks to a minimum. 
How do I find the right surgeon for hair replacement or laser hair removal? 
It is crucial that you do some research before consulting with plastic surgeons. Hair replacement is a complex surgery that requires the right training and a great deal of expertise. Check online reviews and look at the before and after pictures of patients to get familiar with a surgeon's work. 
Waldman Plastic Surgery prides itself on providing world-class care and enviable results for patients. Each of our plastic surgeons is board-certified and has a long track record of success. Individuals in Lexington, KY interested in hair therapies can contact our office at (859) 254-5665 to request a consultation with one of our board-certified plastic surgeons.